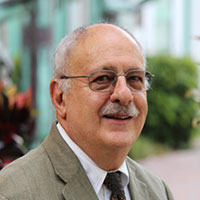 David Abraham
Board Member
David Abraham was born in Antwerp to Auschwitz and slave-labor survivor parents not long after the war. His family came as immigrants to the U.S., where the family, which lived in the Bronx, Buffalo, and Brooklyn, remained one of modest means. The family was active in orthodox and Zionist circles while advocating progressive social policy.
David went on to study at the University of Chicago, where he was active in antiwar and new left politics through 1968. He was then involved in a radical teachers group while teaching in the NYC public schools. Thereafter he studied at the Hebrew University as a graduate student with the great Jacob Talmon and others while participating in Siach" and other progressive groups there. Eventually David returned to the University of Chicago, earning a PhD in History and helping to found a local chapter of Breira.
A specialist in Weimar Germany and radical movements, David taught for nearly a decade at Princeton University and then worked in the federal courts and at a prominent New York City law firm. Since the mid-'90s David has taught at the University of Miami School of Law where he specializes in immigration, citizenship, property, and labor law and has published widely. He has been a guest professor at universities around the world and is a regular visitor to Israel where he has lectured widely, participated in numerous conferences, and taught as a guest professor at Haifa and Bar Ilan universities.