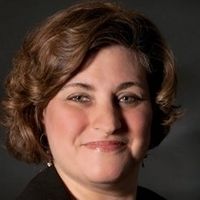 Rabbi Andrea London
Board Member
Rabbi Andrea London
Rabbi Andrea London is a nationally recognized Jewish leader who has served at Beth Emet Synagogue since 2000 and was named the congregation's Senior Rabbi in July 2010. Rabbi London is deeply engaged in all aspects of congregational life, including worship, lifecycle events, counseling and support, adult education, youth education and programming, social action, and interfaith relations. She strives to teach and encourage individuals and communities through contemplative, social, and spiritually based actions.
Social justice activism is an integral part of Rabbi London's rabbinate. She has led several social action trips, including two congregational trips to hurricane-devastated areas on the Gulf Coast, where Beth Emet teens and families repaired homes and community centers and forged relationships with Reform Jews and members of a local church. In April 2013, teens from Beth Emet and Second Baptist Church in Evanston, led by Rabbi London and colleagues from Second Baptist Church, spent their spring break on a six-day "Sankofa" bus journey to civil rights sites throughout the southern United States. (Sankofa is a West African word meaning "go back and get it.") During the trip, the group explored the history of slavery and the Civil Rights Movement, using various racial and religious lenses through which we experience the world to understand the roles that race and racism play in our world and how we might be change agents in the quest to create a more equitable and compassionate society. Rabbi London is committed to continuing the work of racial justice.
Rabbi London has long promoted learning, dialogue and action on Israel and Zionism. At her initiative, Beth Emet raised more than $80,000 to aid Israelis seeking refuge during the 2006 Lebanon war and was a leader in local efforts to promote the 2003 Geneva Initiative crafted by Israeli and Palestinian politicians and diplomats. She has been a strong proponent of congregational participation in the Reform Movement's EIE high school program in Israel and regularly invites speakers from diverse backgrounds to offer challenging perspectives on Jewish/Muslim and Israeli/Palestinian issues. She is a member of J Street's rabbinic cabinet.
Rabbi London has also worked to build bridges between Chicago-area Jews, Christians, and Muslims. She chairs the Jewish Council on Urban Affairs' Jewish-Muslim Community-Building Initiativethat works with the Chicago-area Muslim community to build relationships and understanding through educational, artistic, and religious activities and to stand up for each other when our communities face discrimination, threats, intimidation and acts of physical violence.
Jewish spirituality plays an important role in Rabbi London's rabbinate. She is a graduate of the Institute for Jewish Spirituality's rabbinic cohort and its Jewish Mindfulness Meditation Teacher Training program. She has initiated a variety of programs on spirituality at Beth Emet, including an ongoing Shabbat afternoon spirituality group and a yoga minyan.
Rabbi London holds several national leadership positions within the Reform Movement. She serves on the President's Rabbinic Council of the Hebrew Union College-Jewish Institute of Religion (HUC-JIR) and has served on the board of Rabbis for Human Rights North America (T'ruah) and the Rabbinic Advisory Committee of the Olin-Sang-Ruby Union Institute (OSRUI), the Reform Movement's summer camp in Oconomowoc, Wisconsin, where she has been on the faculty since 2001. She is also the secretary of the Chicago Board of Rabbis. In 2014 she was named by The Forward newspaper as one of 28 inspirational rabbis.
Rabbi London holds a degree in applied mathematics from Brown University and worked as a management consultant before becoming a rabbi. She received her smicha (ordination) in 1996 from the Hebrew Union College-Jewish Institute of Religion in New York and served as assistant rabbi at Temple Israel in Minneapolis from 1996 to 2000. She is married to Danny London and has two children, Yonah and Liora.