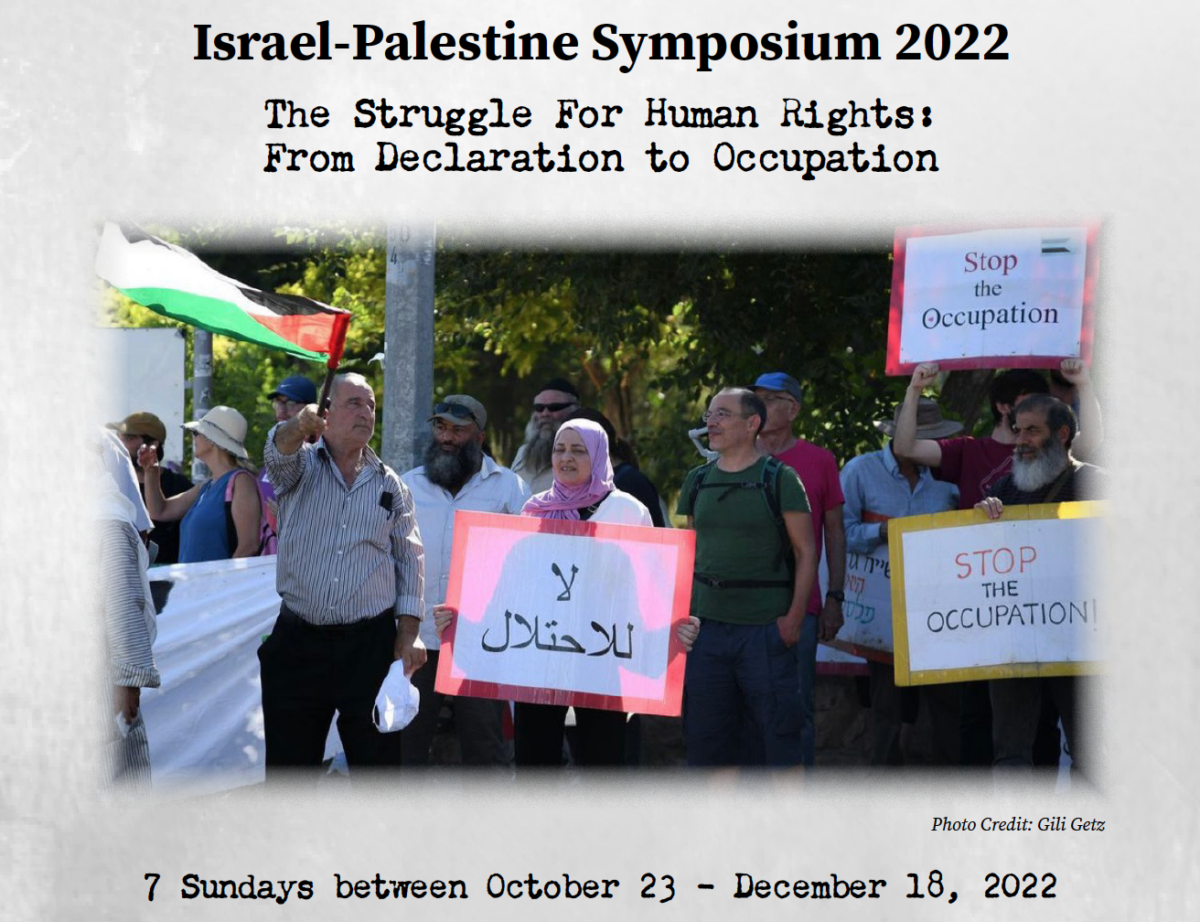 Interact with Israeli & Palestinian NGOs protecting human rights by working to end the occupation.
Meet with Israeli & Palestinian government leaders standing up for human rights.
Explore key issues while Israelis go to the polls on November 1st to elect a new government.
Visit with Israelis and Palestinians whose human dignity has been violated.
Examine the struggle both at home & on the West Bank for Israel
to live up to its commitment to human rights.
For the third consecutive year, Partners for Progressive Israel will host a digital trip to Israel and Palestine over seven Sundays between October 23rd and December 18th. ˜e Struggle for Human Rights: From Declaration to Occupation will examine Israel's endeavor to live up to its commitment to human rights both at home and in the West Bank and Gaza. Participants will have the opportunity to meet with government and NGO leaders fighting to protect these rights. °e opportune timing of this Symposium will give participants the chance to explore the struggle for human rights while Israelis go to the polls on November 1st to elect a new government and as the ensuing coalition is built. Participation in the Symposium is limited so that direct dialogue between members and speakers from Israel and Palestine can be meaningful.
On May 14, 1948, twenty-five leaders of the Jewish Community signed a Declaration of Independence for the new State of Israel. °e Declaration proclaims that Israel "will ensure complete equality of social and political rights to all its inhabitants irrespective of religion, race or sex." In the same year, the UN passed its Declaration of Universal Human Rights. Both declarations were etched in documents, which, to borrow words from Martin Luther King Jr., were "promissory notes," and in the words of Torah, "Israel's covenant (brit) with all its inhabitants."  Throughout the seventy-four years to follow, Israel has fulfilled only part of the promises made in both Declarations. A relentless and growing Occupation in the West Bank and ongoing discrimination against Palestinian Israeli citizens have given the lie to much that was avowed in 1948.
Partners for Progressive Israel invites you to join this exploration of Israel's path from declaring high ideals to its struggle to realize these same ideals on the ground.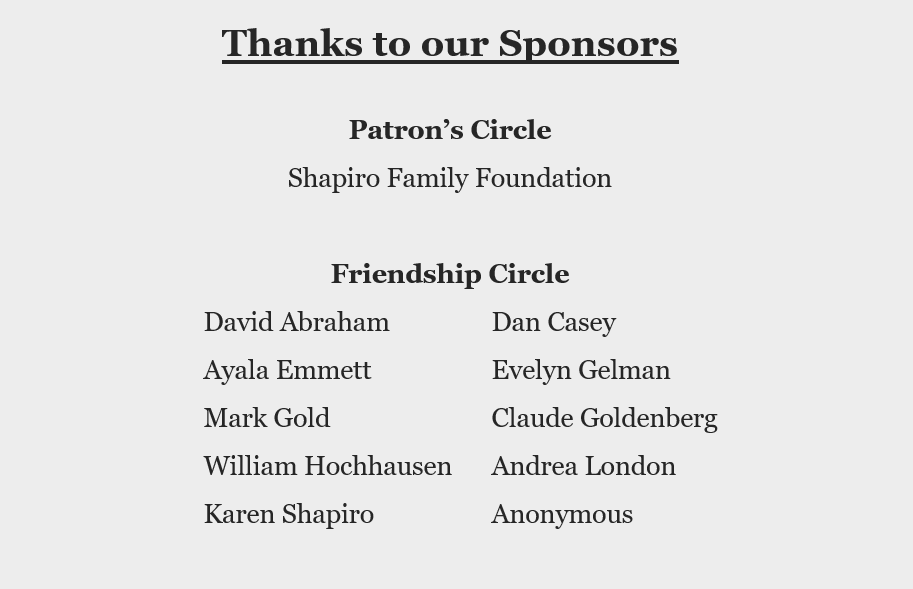 .
General Information
The Israel-Palestine Symposium will take place via Zoom over twelve, two- hour sessions (from 10:30am – 12:30pm ET & 1:30pm – 3:30pm ET) on seven Sundays:
• October 23                    • November 20
• October 30                    • December 11
• November 6                  • December 18
• November 13
To allow for substantive discussion, each session will be limited to 50 participants and will be divided as follows:
• 45-minute presentations by the invited guest speakers
• 45-minute direct Q&A conversation with the speakers
• 30-minute discussion among Symposium participants
Pre-Symposium Film:
All attendees who register prior will receive a link to watch a pre-Symposium film "My Tree" directed by Canadian playwright and screenwriter Jason Sherman between Friday 14th – Wednesday, October 19th. It was nominated for best feature length documentary at this year's Canadian Screen Awards. There will be a follow-up Zoom interview with Sherman to discuss his work. Click below to watch the trailer.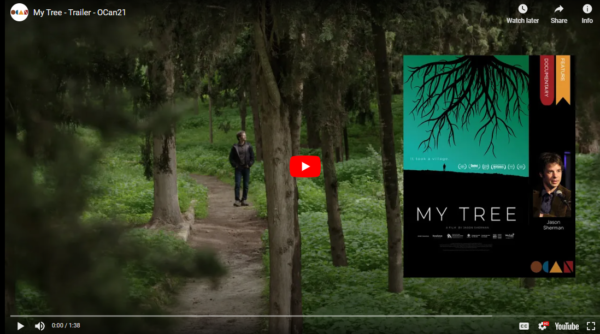 Post-Symposium Film: To be announced.
Registration and Sponsorship
Space is limited to 50 participants per session. We recommend signing up early to secure your spot! 
Symposium Registration Fee:  (14 sessions and pre-and-post-symposium films)
Sponsorship Information 
The cost to host the 2022 Israel-Palestine Symposium is greater than these fees will cover. Support this important and timely program by becoming a Sponsor today. As a Sponsor, you can attend all 14 Symposium sessions, plus access links (for a limited time. You will also be acknowledged at each session, in our promotional materials, e-blasts, social media and on our website!


PROGRAM
Sunday, October 23, 2022
CURRENT HUMAN RIGHTS ISSUES IN ISRAEL & THE OCCUPIED TERRITORIES
Both sessions will take place against the background of promises made, but violated, in Israel's Declaration of Independence. Where might hope reside for the repair of human rights?
Session #1:  10:30 am – 12:30 pm ET         
ABUSE OF HUMAN RIGHTS WITHIN ISRAEL PROPER    
We will visit with key members of the Jewish and Palestinian human rights community within Israel's borders. Advocates for human rights from both political and civil society leadership will address such issues as the many forms of discrimination against Palestinians with Israeli citizenship and the unequal treatment of Ethiopian Jews.
Panelists
Einat Ovadia, Executive Director, ZULAT
Mohammad Darawshe, Director of Strategy, Givat Haviva
Laura Wharton, Member, City Council, Jerusalem
Gili Getz (Moderator), Board Member, Partners for Progressive Israel
Session #2:  1:30 pm – 3:30 pm ET
HUMAN RIGHTS VIOLATIONS IN THE OCCUPIED WEST BANK, EAST JERUSALEM, & GAZA  
Human rights activists and political leaders will address such issues as the separate legal systems for residents of the West Bank; evictions of Palestinians in Sheikh Jarrah, Masafer Yatta, and elsewhere on the West Bank; travel restrictions on the citizens of Gaza; settler violence; the denial of naturalization to Palestinians from the Occupied Territories married to Israeli citizens; and the outlawing of non-violent Palestinian rights organizations.
Panelists
Eid Suleman, Peace Activist, South Hebron Hills
Dor Chavoinik,International Department Coordinator, Gisha
Gili Getz (Moderator), Board Member, Partners for Progressive Israel.

Sunday, October 30, 2022
BALANCING SECURITY WITH HUMAN RIGHTS
Israel faces genuine threats to its security,  but widely different meanings of the word "security" are understood by Israelis and Palestinians. How are human rights violated in security's name? Could a peace accord provide genuine security for both peoples?
Session #3:  10:30 am – 12:30 pm ET
SECURITY: WHEN LEGITIMATE AND WHEN A PRETEXT FOR ABUSING HUMAN RIGHTS?
Israel's legitimacy as a democracy rests on preserving the often-fragile equilibrium between protecting the state and safeguarding the human rights promised in its founding document. Security experts and human rights workers will address aspects of this delicate balance. Issues to be discussed may include security for Palestinians, administrative detention, extra-judicial killings, blockading Gaza, and collective punishment.    
Panelists
Shlomo Brom, Institute for National Security Studies
Tuly Flint, Combatants for Peace
Nimala Kharoufeh, Combatants for Peace
Lenny Grob (Moderator), Partners for Progressive Israel
Session #4:  1:30 pm – 3:30 pm  ET
WOULD GENUINE SECURITY FOR ISRAEL LIE IN A JUST PEACE WITH ITS PALESTINIAN NEIGHBORS?
In this session, representatives of human rights NGOs and authorities on security matters will be asked to assess the claims made by some political leaders that survival in the Middle East rests only on military might. Although no one disagrees that Israel must possess the means to defend itself, could agreements between Israel, Palestine, and their neighbors realistically provide the only permanent security?
Panelists
Avshalom Vilan, Veteran, Elite IDF Unit, Peace Activist
Galia Golan, Combatants for Peace
Mauricio Lapchik, Peace Now
Lenny Grob (Moderator), Partners for Progressive Israel

Sunday, November 6, 2022
ANALYZING THE NOVEMBER 1ST ELECTION RESULTS
November 1st is the occasion of Israel's fifth election in the past four years. Although coalition deliberations are only now beginning, political leaders will discuss what the results portend for a future government.
Session #5  10:30 am – 12:30 pm ET
CIVIL SOCIETY MEMBERS ASSESS THE ELECTION RESULTS
NGO leaders and other experts in the arts and science of politics will consider Israel's election results with an eye toward what these results might mean for the future of human rights in Israel and the Occupied Territories. Potential alignments of parties will also be discussed.
Panelists
Alone Lee Green, Standing Together
Sally Abed, Standing Together
Arik Ascherman, Torat Tzedek (Torah of Justice)
Lenny Grob and Karen Shapiro (Co-Moderators), Partners for Progressive Israel
Session #6:  1:30 pm – 3:30 pm  ET
POLITICIANS ASSESS THE ELECTION RESULTS
Members of the Knesset and other political leaders will examine the election outcomes and explore possible coalition configurations. They will discuss what the election results portend for the protection of human rights in Israel and the Occupied Territories.
Panelists
Mossi Raz, Meretz
Lenny Grob and Karen Shapiro (Co-Moderators), Partners for Progressive Israel

Sunday, November 13, 2022
CASE STUDIES IN THE PROTECTION OF HUMAN RIGHTS: WOMEN AND THE LGBTQ+ COMMUNITY
Although human rights abuses exist in numerous settings in Israel and the Occupied Territories, speakers in these sessions will address gender and LBGTQ+bias as two prominent instances of discrimination that contradict promises of equality made in Israel's Declaration of Independence.
Session #7:  10:30 am – 12:30 pm ET
GENDER BIAS IN ISRAEL – AND WOMEN AS A FORCE FOR CHANGE
Although the 1951 Women's Rights Law was passed by Israel's first Knesset, a 2021 study informs us that Israel ranks 30th in gender equality among 100 countries. Political leaders and representatives of women's rights organizations will share their thoughts about gender inequality in Israel and the current, multi-pronged struggle to overcome it. Among the issues to be discussed are gender-based violence; unfair treatment of women in the workplace; gender segregation; under-representation in legislative bodies; inequality in family law and concern of violence against women in the Israeli Palestinian community. We will hear about increasingly strong advocacy for the empowerment of women in the face of these inequities.
Orit Sulitzeanu, Executive Director, The Association of Rape Crisis Centers in Israel
Gili Bason, Transgender Activist, LGBTQ+ Center
Samah Salaime, Executive Director, Na'am-Arabi Women in the Center
Sapir Sluzker Amran, Co-Founder, Breaking Walls
Karen Shapiro and Ben Sharif (Co-Moderators), Partners for Progressive Israel
Session #8:  1:30 pm – 3:30 pm ET
DISCRIMINATION AGAINST THE LGBTQ+  COMMUNITY IN ISRAEL
Israel's LGBTQ+ community—relatively well-protected in comparison to other states in the region and in other parts of the world—still faces substantial human and civil rights challenges at home. Last year, the Association of the Movement for Equality recorded more than 2900 cases of discrimination against the LGBTQ+ community, a 10 percent increase over 2020.  Members of the community who are Palestinian citizens of Israel suffer disproportionately. Issues to be discussed include violence against the LGBTQ+ community and discrimination in the workplace and in some religious rituals.  
Chen Arieli, Deputy Mayor, Tel Aviv-Yafo
Muhammad Zoabi, Arab LGBTQ+ Activist
Netanel Shaler, Director General, Havruta-Religious Homosexuals
Karen Shapiro and Ben Sharif (Co-Moderators), Partners for Progressive Israel


Sunday, November 20, 2022
RELIGION AND HUMAN RIGHTS
Teachings in our religious traditions can serve to strengthen or to weaken human rights. This session will examine some instances of how Judaism, Christianity, and Islam have influenced what we now refer to as human rights and how these traditions might play a positive role today.
Session #9:  10:30 am – 12:30 pm ET
POSITIVE & NEGATIVE INFLUENCES OF RELIGION ON HUMAN RIGHTS
We will explore some ways in which Judaism, Christianity, and Islam have supported or failed to support human rights in Israel. With regard to Judaism, of special interest will be the relationship of the Orthodox Israeli rabbinate to the Conservative and Reform movements within Israel; Shabbat observance/restrictions as well as civil marriage/divorce will be discussed as well. Regarding Islam and Christianity, speakers will address ways these traditions have furthered–or impeded–human rights in their respective communities both in Israel and Palestine.
Session #10:  1:30 pm – 3:30 pm ET
WELCOMING–OR REJECTING–THE NON-JEWISH "OTHER"
The command to "welcome the stranger" is articulated no fewer than 36 times in the Torah. How does Israel's treatment of non-Jews, whether immigrants or asylum seekers, square with this injunction to welcome the Other? Who, indeed, is the "stranger"? Speakers will discuss concerns surrounding calls for "Jewish supremacy," as well as issues pertinent to the Law of Return and to the conduct of Israel toward both foreign workers and asylum seekers from Sudan and Eritrea.  

Sunday, December 11, 2022
HUMAN RIGHTS EDUCATION (OR MISEDUCATION)
Education is a key to upholding those promises regarding human rights cited in Israel's founding documents. We will examine ways that education can promote human rights—and ways in which it can contribute to their endangerment.
Session #11:  10:30 am – 12:30 pm ET
TEACHING HUMAN RIGHTS IN ISRAELI & PALESTINIAN CLASSROOMS
Speakers will explore with us how human rights are taught (or mistaught or neglected) in both Israeli and Palestinian classrooms. What are good (and bad) pedagogies for human rights education? Among the issues to be discussed are accusations of bias in both Palestinian and Israeli textbooks, as well as in respective teaching practices. How, for example, are maps used to support or undermine human rights? How do Israeli Jewish schools promote or impede the study of Arabic?
Session #12:  1:30 pm – 3:30 pm ET
HOW MIGHT THE ARTS EDUCATE FOR HUMAN RIGHTS?
Speakers from a variety of artistic forms—among them perhaps film, literature, music, and dance—will discuss how their specialties might be used to promote human rights in both Israel and Palestine. How does arts education differ from more traditional ways in which students have been taught about human rights? Among issues to be discussed is a current movement of 140 Israeli filmmakers refusing to take money from a fund that attempts to normalize the occupation.  

Sunday, December 18, 2022
HUMAN RIGHTS ISSUES AT A DECISIVE TIME IN THE KNESSET
&
WHERE DO WE GO FROM HERE?
FIRST SESSION: Assuming a government has been formed, where might it stand on human rights issues? If no government has been formed, what are prospectsfor new political configurations, and how might human rights be impacted by them? Second Session:  How are we to preserve what we've learned and translate it into action after the Symposium is over?
Session #13:  10:30 am – 12:30 pm ET
A NEW GOVERNMENT FOR ISRAEL?
This session will take stock of post-election deliberations/decisions concerning a new government for Israel. What are the implications for the future of human rights in Israel? 
Session #14:  1:30 pm – 3:30 pm ET
HOW DO WE CONTINUE? WHAT ACTIONS CAN WE TAKE? 
We will discuss ways to maintain our support of those in the region working for the protection of human rights and a just peace between Israel and Palestine. We see this not as the end of our 14-session Symposium, but rather the beginning of a planning process in which what we have learned can be realized in action. In this sense, the Symposium continues. We will explore in depth how we in the Diaspora can continue to work in concrete ways in support of these goals.

download full program in pdf