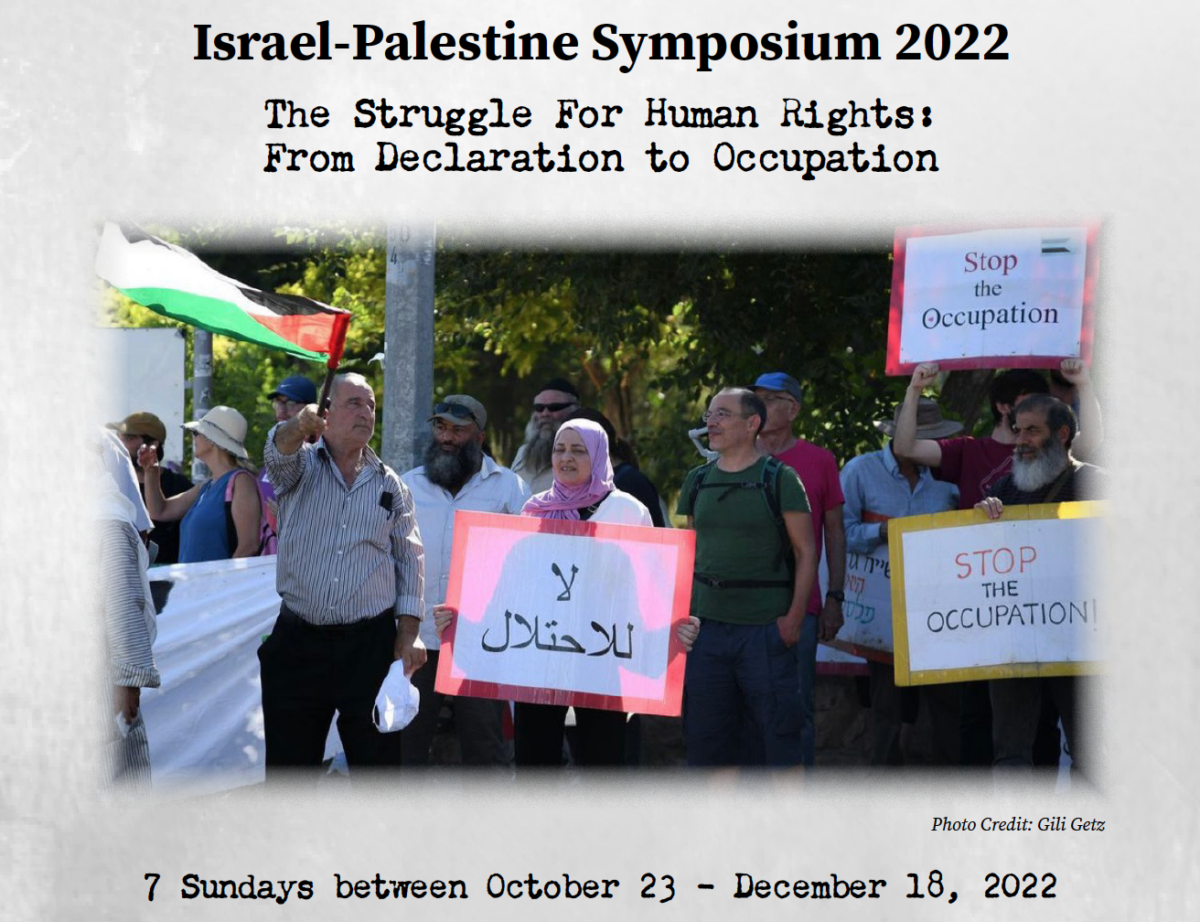 download full program in pdf

Interact with Israeli & Palestinian NGOs protecting human rights by working to end the occupation.
Meet with Israeli & Palestinian government leaders standing up for human rights.
Explore key issues while Israelis go to the polls on November 1st to elect a new government.
Visit with Israelis and Palestinians whose human dignity has been violated.
Examine the struggle both at home & on the West Bank for Israel
to live up to its commitment to human rights.
For the third consecutive year, Partners for Progressive Israel will host a digital trip to Israel and Palestine over seven Sundays between October 23rd and December 18th. ˜e Struggle for Human Rights: From Declaration to Occupation will examine Israel's endeavor to live up to its commitment to human rights both at home and in the West Bank and Gaza. Participants will have the opportunity to meet with government and NGO leaders fighting to protect these rights. °e opportune timing of this Symposium will give participants the chance to explore the struggle for human rights while Israelis go to the polls on November 1st to elect a new government and as the ensuing coalition is built. Participation in the Symposium is limited so that direct dialogue between members and speakers from Israel and Palestine can be meaningful.
On May 14, 1948, twenty-five leaders of the Jewish Community signed a Declaration of Independence for the new State of Israel. °e Declaration proclaims that Israel "will ensure complete equality of social and political rights to all its inhabitants irrespective of religion, race or sex." In the same year, the UN passed its Declaration of Universal Human Rights. Both declarations were etched in documents, which, to borrow words from Martin Luther King Jr., were "promissory notes," and in the words of Torah, "Israel's covenant (brit) with all its inhabitants."  Throughout the seventy-four years to follow, Israel has fulfilled only part of the promises made in both Declarations. A relentless and growing Occupation in the West Bank and ongoing discrimination against Palestinian Israeli citizens have given the lie to much that was avowed in 1948.
Partners for Progressive Israel invites you to join this exploration of Israel's path from declaring high ideals to its struggle to realize these same ideals on the ground.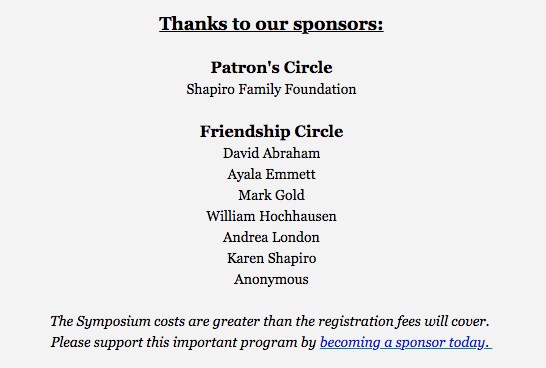 .
.
General Information
The Israel-Palestine Symposium will take place via Zoom over twelve, two- hour sessions (from 10:30am – 12:30pm ET & 1:30pm – 3:30pm ET) on seven Sundays:
• October 23                    • November 20
• October 30                    • December 11
• November 6                  • December 18
• November 13
Pre-and Post-Symposium Films will also be screened.
To allow for substantive discussion, each session will be limited to 50 participants and will be divided as follows:
• 45-minute presentations by the invited guest speakers
• 45-minute direct Q&A conversation with the speakers
• 30-minute discussion among Symposium participants
Registration and Sponsorship
Space is limited to 50 participants per session. We recommend signing up early to secure your spot! 
Symposium Registration Fee
$180 – Before Rosh Hashanah (by Sunday, September 25th)  & save $30!
REGISTER NOW
Sponsorship Information 
The cost to host the 2022 Israel-Palestine Symposium is greater than these fees will cover. Support this important and timely program by becoming a Sponsor today. As a Sponsor, you can attend all 14 Symposium sessions, plus access links (for a limited time. You will also be acknowledged at each session, in our promotional materials, e-blasts, social media and on our website!


Each day there will be two, 2-hour sessions
from 10:30am – 12:30pm ET & 1:30pm – 3:30pm ET
Day #1 – October 23:  Key Human Rights Issues in Israel &
on the West Bank Today
Jewish and Palestinian Israelis as well as Palestinians from the West Bank and Gaza will speak about current, burning human rights issues where they live. How does each of them envision the violations of these rights be dealt with? Where does hope reside?
Day #2 – October 30:  Balancing Security with Human Rights
The legitimacy of a democracy rests on preserving a fragile equilibrium between protection of the state and safeguarding human rights. How does Israel justify restrictions on such acts as: restrictions on travel from Gaza?  Home demolitions? Administrative detentions? How do security demands ect the rights of Palestinians living within Israel and on the West bank?  Might ultimate security for Israel lie in a just peace between Israel and the Palestinians?
Day #3 – November 6:  Analyzing the November 1st Election Results
Israeli Jewish and Israeli Palestinian members of the current Knesset, along with NGO leaders, will assess the results and explore possible coalition configurations. What do the results portend for the protection of human rights in Israel and the Occupied Territories?
Day #4 – November 13: Case Studies in the Protection of Human Rights:
Women & the LGBTQ community  
Human rights abuses are writ large with regard to women and the LGBTQ community. Democratic Israel has not lived up to its ideals. What can and is being done and what effect, if any will the election results have on these basic human rights? The early session will focus on human issues concerning women both at home is Israel and on the West Bank. LGBTQ issues will be discussed in the later session.
Day #5 – November 20:  Religion & Human Rights  
Human rights are sometimes supported by religious traditions; they can also be undermined by them. What are positive and negative influences of Judaism and Islam on human rights in Israel and the Territories? Are there ways the two religions can work together in support of human rights? What are some key current between the rabbinate and conservative and Reform movements in Israel? Speakers will discuss such current issues as Shabbat observance; laws of kashrut; and civil marriage and divorce. "Welcoming the stranger" is articulated no fewer than 36 times in Torah. How does Israel's treatment of non-Jewish immigrants square with this injunction to welcome the Other?
Day #6 – December 11:  Human Rights Education (or Miseducation)    
Speakers will explore how human rights are taught (or mistaught or neglected) in both Israel and Palestine. What are good pedagogies for human rights education? How might human rights be undermined, either implicitly or explicitly, in the classroom? In the home? What about bias in the textbooks and the media of both peoples?  How can the arts educate for human rights?
Day #7 – December 18:  First session: Human Rights Issues Under the New Israeli Government                                                                                                             Second Session: Where Do We Go From Here?
Assuming a new government will have been formed, the early session will feature members of the new coalition talking with us about their perspective on the protection of human rights both at home and in the Territories.  What will this government do that will mark an improvement over past governments?For the second session (only for full session goers), we will discuss ways to sustain our support of those in the region working for the protection of human rights and a just peace between Israel and Palestine. We will explore in depth how we in the diaspora can continue to work in concrete ways in support of these goals. An Israeli and a Palestinian human rights advocate will guide us in the conversation and speak their views of how Americans can support the region. We see this .not only as the end of our 14-session symposium, but the beginning of a planning process in which our learnings can be realized in action. In this sense, the symposium continues.
download full program in pdf