From Tel Aviv to Washington: A Fire in My Heart
by Avraham Spraragen
"We have on this land that which makes life worth living," wrote the late Palestinian national poet Mahmoud Darwish. These words, in English translation, adorn the walls of the Masafer Yatta home of Palestinian activist Basel Adraa whom I visited last month as a 2023 Naomi Chazan Global Activism Fellow of the New Israel Fund (NIF). This eight-day trip to Israel-Palestine followed my participation in the Partners Israel-Palestine Symposium 2022 digital trip to the region.
Adraa's village in the southern West Bank, at-Tuwani, faces impending home demolitions and forced evacuations. My 2023 NIF cohort, from the U.S., Canada, U.K., and Australia, met with Adraa in Masafer Yatta as a show of diaspora Jewish solidarity with Palestinian victims of Israeli occupation. We declared that "not in our name," the name of the Jewish people, would his people suffer. The Darwish quote above, in the original Arabic, similarly adorns the walls of downtown Amman, where I recently lived for six months while studying Arabic. (I wrote about my experience as a lone Jew in Jordan for the Israel Horizons September and December 2022 issues).
During my time in Jordan, I befriended exiled Palestinians from Jerusalem to Jaffa. This winter, as part of the NIF fellowship, I visited Palestinians who remain in these and other cities, from the Jordan River to the Mediterranean Sea, to further the mission of Arab-Jewish partnership that I joined while in Jordan.
This mission of co-resistance for coexistence is embodied by Standing Together (עומדים ביחד نقف معًا), the largest grassroots Arab-Jewish movement in Israel-Palestine. At the Abraham Hostel in Tel Aviv, its façade adorned with an Association for Civil Rights in Israel (ACRI) poster — "No Human Rights, No Democracy" — my cohort met with the Standing Together co-directors, Jewish Israeli Alon-Lee Green and Palestinian citizen of Israel Rula Daood. Having already met two other movement leaders Uri Weltmann and Sally Abed at the 2022 J Street conference (where I represented PPI) in Washington D.C. prior to the NIF fellowship, I was eager to further my activism with Standing Together on the ground. When Green and Daood invited my cohort to participate in their post-Shabbat demonstration at Habima Square in central Tel Aviv, I was elated.
We proudly joined more than 30,000 Jews and Arabs that night, including a Knesset champion for Arab-Jewish unity Ayman Odeh, holding signs in Arabic and Hebrew to demand justice, equality, and peace for all between the river and the sea. Other rallygoers waved the Palestinian flag in support of an independent State of Palestine. The far-right Israeli National Security Minister Itamar Ben-Gvir, previously convicted of supporting a Kahanist terrorist group, responded to the Palestinian flags at our rally by criminalizing public displays of the black, white, and green. Later in the NIF trip, we protested this illiberal order alongside Palestinian activists in the Sheikh Jarrah neighborhood of East Jerusalem, by displaying the flag in front of Ben-Gvir's makeshift office (built as a provocation atop Palestinian land amid the May 2021 cycle of violence).
The sign that I brought home to Washington from the Standing Together rally, "Jews and Arabs refuse to be enemies," has informed my continued Progressive Israel Network (PIN) advocacy since then. Earlier this month, I delivered a speech on behalf of Partners at a PIN-organized protest in front of the Israeli Embassy in D.C. Holding the above sign in Hebrew imported directly from the streets of Tel Aviv, I shared the message with American Jewish protestors that "Arab-Jewish unity is possible."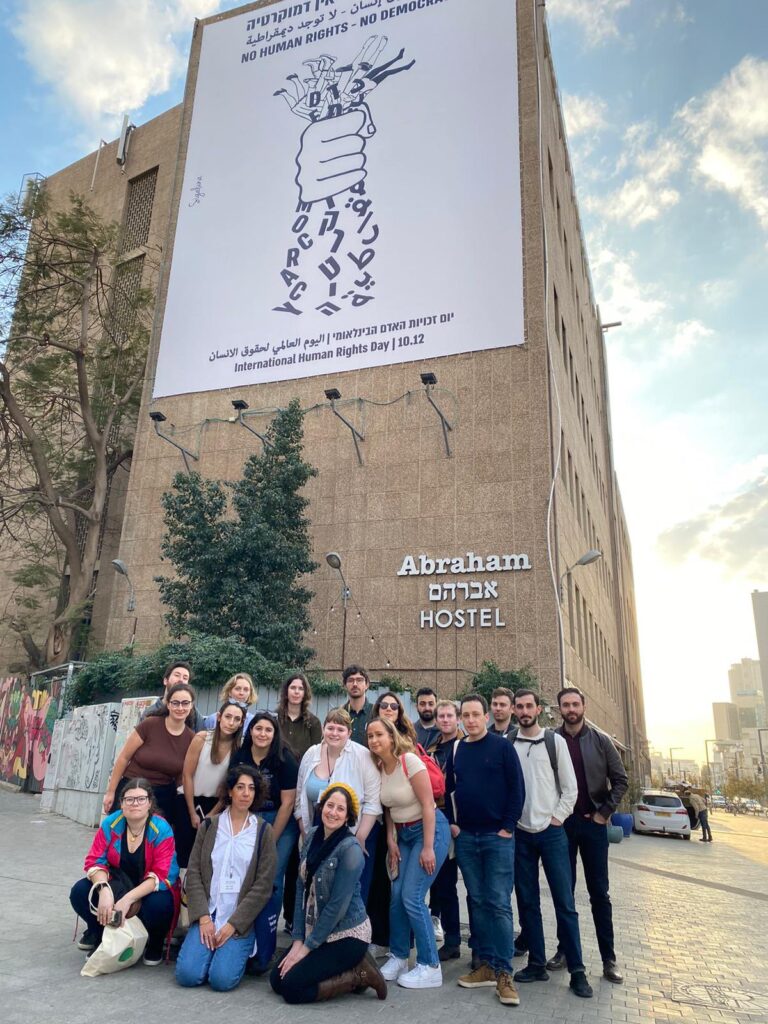 I have also brought home with me the knowledge I gained from our binational "Yaffa to Yafo to Jaffa" tour, from touring the Arab-Jewish cities of Ramle and Lod, and from the Breaking the Silence tour of the ghost town Hebron has become under Israeli occupation and settler domination. In Jaffa, we visited an Arab-Jewish theater facing Israeli censorship, in Ramle and Lod we saw the aftermath of the Arab-Jewish violence in May 2021, and in Hebron we saw the affront to Arab-Jewish partnership that perpetual occupation poses.
The historic Arab-Hebrew Al Sarya Theater in the Old City of Jaffa was targeted by the far-right Israeli government for screening Farha, a 2021 film about the Palestinian Nakba, as part of the national campaign to censor Nakba commemoration, along with the Palestinian flag. On our Negev day trip, my NIF cohort was reminded of another incident of Israeli censorship that targeted students at Ben-Gurion University of the Negev. During a student protest on Nakba Day 2022, Palestinian displacement was commemorated on the Negev campus with Palestinian flags and Mahmoud Darwish's poetry. Ben-Gurion University later summoned for disciplinary proceedings the Palestinian student who read aloud the words of the national poet of Palestine at the Nakba Day protest.
If only for a few days, on the heels of the Partners Symposium, I was proud to be on the frontlines in the fight against this illiberalism, censorship, and discrimination, inspired by former Knesset member and Hebrew University professor emerita Naomi Chazan. Chazan, whom our cohort met in the NIF Jerusalem office, was a member of the PPI-affiliated Meretz Party and has been a lifelong champion of Israeli-Palestinian justice, equality, and peace. We sought to honor her name and live up to her legacy at every stop along our countrywide journey. Two other stops along this journey were the Tzedek Centers in the "mixed cities" of Ramle and Lod, epicenters of the May 2021 Arab-Jewish violence. In the aftermath of this violence, the Tzedek Centers, located in eight Arab-Jewish cities, have worked to promote a shared society through communal leadership programs, local events, and campaigns.
The word Tzedek, meaning justice, is a Jewish call to action found in Deuteronomy: tzedek, tzedek tirdof, "justice, justice you shall pursue." In Hebron, the illegal Israeli settlers have abandoned this call to action, purportedly in the name of Judaism, no less. At the entrance to the Old City of Hebron, Israeli-American terrorist Baruch Goldstein is memorialized and his disciple Itamar Ben-Gvir lives in an illegal settlement downtown. The Goldstein tomb, on which Israeli settlers place commemorative stones, is located in Meir Kahane Park, named after the assassinated founder of the terrorist-designated Kach Party. Our NIF cohort was led on a tour of the park and old city by a Breaking the Silence tour guide from New York, a modern Orthodox Jew wearing a kippa embroidered with the flags of both Israel and Palestine. A provocateur from the same hate group, Im Tirtzu, that targeted the Palestinian student for quoting Darwish, also targeted our tour guide while sporting a "Make Hebron Great Again" cap, reviling him for exposing us to the injustice of Israeli occupation.
Despite the separate roads for Arabs and Jews in Hebron, displays of the Kach symbol in East Jerusalem settlement construction sights, bulldozers, checkpoints, roadblocks, and walls, I discovered 'on this land that which makes life worth living'; i.e., meaningful Arab-Jewish partnership for a shared future.
My eight days travelling throughout 'this land' also reinforced the lesson of the Partners Symposium that the far-right Israeli government poses a threat, not only to Arab-Jewish partnership, but to other diverse groups as well: the LGBTQ community, women, refugees and asylum seekers, the irreligious, and the political opposition in Israel-Palestine. On the first day of the NIF fellowship, we took a walking tour "In the Footsteps of Tel Aviv-Jaffa's LGBTQ History," in solidarity with this community under threat by the homophobic Noam Party led by Avi Maoz. The far-right Knesset member, whose party focuses on the "threat" that Pride constitutes to the Jewish People, now heads the new "National Jewish Identity" authority in the Prime Minister's Office.
The call to action of tzedek, tzedek tirdof applies to all of these communities and their struggles, especially with the Israeli far-right now in power. Co-resistance today among these diverse groups will be the key to coexistence tomorrow. On our last day, we traveled south for a "Tour of the Unrecognized Bedouin Villages in the Negev." My fellow diaspora Jewish activists and I were invited for Arabic coffee under a desert tent. While sipping our coffee, a Palestinian Bedouin sang to us about the "fire in his heart." That is, the 'fire' that prevents him, and indeed all of us in the Progressive Israel Network, from giving up on the mission of co-resistance for coexistence.
Crucially, the Israeli-Palestinian civil society actors we organized, strategized, and demonstrated with on our countrywide journey urged us to co-resist, not for a return to the status quo ante of Arab-Jewish separation, but for a future of Arab-Jewish coexistence. This means, as I outlined in my PIN rally speech, an end to occupation and settlement expansion, no to annexation of Palestinian territory, and no to the Israeli government's assault on our liberal, democratic Jewish values.
—
Avraham Spraragen is a dual JD-MA Arab Studies degree candidate at Georgetown University. He previously studied at the Hebrew University of Jerusalem and Tel Aviv University.