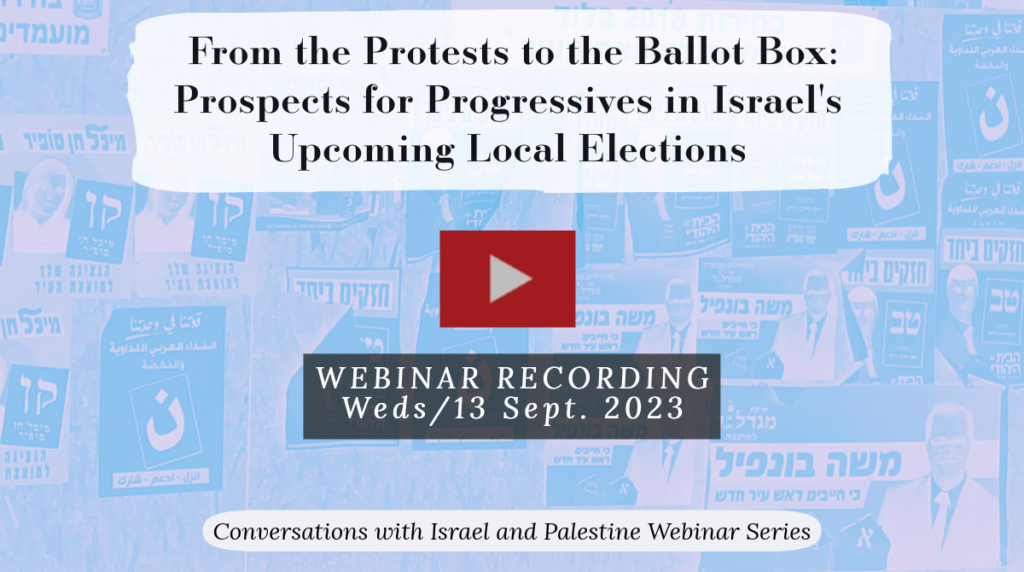 Given Israel's volatile national politics, Israel's October 31 local elections will function something like American midterms – they will be an indication of which way the wind is blowing and an opportunity for the national opposition to translate anger at the government into strong turnout and electoral gains. This is the message our webinar audience heard from Dr. Laura Wharton, a member of the Jerusalem city council, on Wednesday, September 13.
We're delighted to share with you a recording of that webinar, "From the Protests to the Ballot Box: Prospects for Progressives in Israel's Upcoming Local Elections."
Kati Piasecki, a member of the city council in of Bat Yam, told the audience that, although her city has been a rightwing bastion, the "vibe" is changing, and even many of those who voted for Likud and its allied parties are feeling uncomfortable with what the government is doing. She predicts that current national politics will have a "huge" impact on turnout and voter choices in the local elections.
Amir Badran, a member of the city council in Tel Aviv-Jaffa, shared with the audience that the city's mayor and city council neglected the interests of the Arab minority, which resides primarily in Jaffa. But, he stressed, the antidote to this, and especially to the mounting racism nationwide, is to maintain and grow Jewish-Arab political partnership, rather than slip into Arab political isolationism.
Our September 13 webinar was cosponsored by The Abraham Initiatives. Click here to access information about their municipal elections public awareness campaign, which encourages residents of mixed cities to vote for candidates who promote equality.