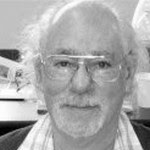 I was sad to discover that Yisrael Zamir [Hebrew for singer] passed away at the age of 85, on 22 Nov., at Kibbutz Beit Alpha, where he had lived most of his life after making Aliya.
For those who know the story, he was the only son of Isaac Bashevis Singer, who abandoned the family when Zamir was five years old and went to America, while his son and his mother escaped from Poland to Russia before making their way to pre-state Palestine. I first met Yisrael, or Srul as he was known, at the
moshava
[Zionist movement camp] when he was a
shaliach
[movement representative] for the summer.
We later learned that he had come to New York to seek a meeting with his father, for the first time since the abandonment. If I understand correctly, he came into the lishka [headquarters of Hashomer Hatzair] one day and explained that he needed some work to make ends meet, and that's how he became a shaliach for the summer.

I have two striking memories of him from that time, one being as a veteran of the Haganah and Tzahal in 1948, he fought in Golani Brigade; he taught us how to climb over obstacles. The other memory was his upset over the fact that the designated Hebrew name of one of the kids from the Bronx, Bobby Lawler, was Nachash. Yisrael was furious — how could anyone be named "Snake"?! So his name was changed to Nachshon, after the first Israelite with the courage to cross the newly parted Red Sea, when the children of Israel were returning to the Land of Canaan (and also the name of one of the two kenim in The Bronx).
At the time, Zamir declared that he would live a life as far away as possible from his father's intellectual/literary pursuits, and would devote himself to being "a man of the soil" and the Beit Alpha fisheries. Both Zamir and Singer wrote short stories, each from his own perspective, about that 1955 encounter.
Eventually Zamir mellowed towards his father's profession and wound up being a writer and journalist, becoming editor of Hotam and Deputy Editor of Al Hamishmar. He eventually translated some of his father's works into Hebrew. Zamir was a real mensch, a good, decent human being.