Jerusalem is beginning to show signs of a cultural revival. The city is growing, as is tourism. More and more centers of entertainment, restaurants and cultural institutions are opening.
But many of these are confronted by opposition: religious extremists opposed and brought about the canceling of a series of concerts in churches on weekends. Recently a proposal was brought up to close the zoo on Saturday, its busiest day. Ultra-Orthodox protesters appeared outside a number of new coffee shops open on Saturdays and tried to force their closure. A dance studio was told it had to keep all its curtains drawn because religious passers by might be offended by the sight of women in leotards.
Moreover, the government insists on enforcing a ban on all public transportation on Friday nights and Saturdays, despite Jerusalem's hilly topography and the great distances from outlying neighborhoods to the center of town. Jerusalem is the poorest of Israel's large cities, and less than half of the city's households own cars. Because of the ban, tens of thousands of Jerusalemites, including the forty thousand students in the city, thousands of soldiers, the elderly, as well as young people — most of whom do not own cars — are denied the opportunity to enjoy their leisure time as they see fit and to play an active role in defending and developing Jerusalem's cultural and entertainment centers on Saturdays.
We believe it is important to encourage and cultivate the audience for cultural and leisure time activities as well as the institutions that provide them. In order to do so, friends and I formed the Cooperative Transportation Association of Jerusalem that offers a perfectly legal alternative for transportation on Friday evenings and Saturdays. Private minibuses are run by the cooperative for its members; we call the project, "Shabus." Anyone can join the cooperative and enjoy its services.
Since we began running on
May 1st
, tens of articles and news items have appeared about our project in all forms of the media. After working quietly for over a year before launching, we are now winning both wide public support and rapidly growing membership, as well as generating a lot of excitement.  We won an award from the biggest environmental organization in the country, at a ceremony in the Knesset (pictured above and at right), for innovation in transportation.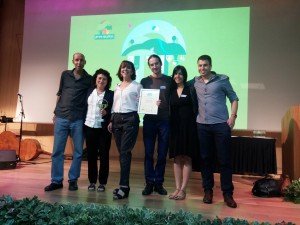 We now have about 800 registered members in our cooperative who also ride with us on weekends, and we're growing every day.
Activists have asked for our advice and assistance in setting up transportation cooperatives — "Shabuses" — in their cities, including: Tel Aviv, Givatayim, Rishon Letsiyon, Rosh Haayin, Ashdod, Kiryat Ono, and others. We've given presentations in several of these places to eager audiences: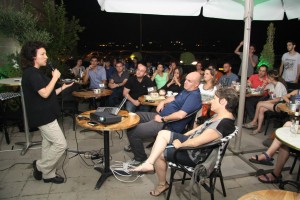 Now that we've proved that transportation on the weekends can and does work, and is truly needed and appreciated (and needn't cause riots!), we're beginning a fund drive for the next six months, by which time we hope to be financially independent and viable (some say it could take a year). We'll be grateful if you can help us spread the word, as well as contribute if you can. Here's the link: http://jewcer.com/project/shabus-weekend-transport-for-pluralist-jerusalem<
Thank you for helping make Jerusalem a more pluralistic, lively, and open city!
— Laura Wharton for the Cooperative Transportation Association of Jerusalem