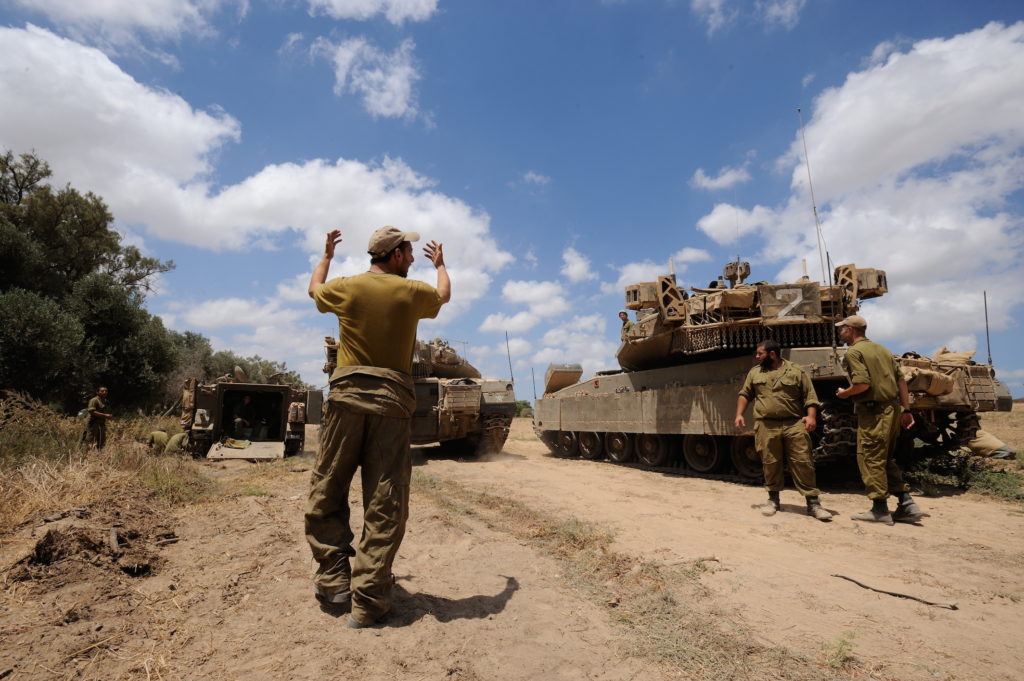 Tanks move into position (Gili Yaari/Flash90)
The ground phase of "Operation Protective Edge" has begun (click for JTA article).
In the last offensive against Hamas in Gaza, "Operation Pillar of Defense" in November 2012, reserve units from the I.D.F.'s Southern Command (to which Gaza is designated) were called to train for the ground invasion. (A bit of background: I served in the I.D.F. as a combat soldier, and my reserve unit was called to fight in Operation Pillar of Defense.) The reserves were to enter the Gaza Strip at the same time as conscripted soldiers. But the reservists, coming straight from civilian life, needed training before they entered combat. The conscripted soldiers, therefore, had to wait until reservists were sufficiently trained and outfitted with gear. Those days proved crucial to Egyptian and U.S. mediation efforts, so a ground invasion was avoided with a ceasefire.
This time, reservists were called from the Home Front Command, not from the Southern Command. Conscripted soldiers, already prepared for fighting, were transferred to bases around Gaza. This means the I.D.F. was able to launch a ground invasion of the Gaza Strip much quicker, in a matter of hours after the decision was made.

As of now, ground forces are tasked with locating and destroying tunnels into Israel, along the border. The likelihood of a long-term military occupation of Gaza (or even a widespread ground invasion of the entire territory) is unclear.
The previous ground invasion of Gaza, "Operation Cast Lead" in 2009, resulted in over 1,400 Palestinian deaths. Thirteen Israelis were killed, several by friendly fire. Hamas, hoping to utilize their own infantry against Israeli forces, had reportedly invited an Israeli ground invasion.
On the Israeli side, this operation is coming shortly after the kidnapping and murder of the three Israeli teenagers last month, and calls for revenge made by many on the Israeli right (including several in the cabinet) have often been directed toward the I.D.F.
The kidnapping and murder of the three teens has fomented national anger and agitated Israeli disgust toward Palestinian violence. There were calls from within the cabinet to avenge the dead boys, indicating to the Israeli public that blame lies with all Palestinians. Sending soldiers into Gaza right now may, therefore, lead to a humanitarian catastrophe. Hamas can be expected to utilize improvised explosive devices, anti-tank missiles, snipers and suicide bombers. In the event Israel holds positions among the Palestinian population, soldiers will need to choose whether they should shoot an approaching civilian or risk their lives and the lives of other soldiers; that these soldiers have national fury behind their mission gives them even more reason to fire.
May peace come soon to Israel and Gaza.