In the summer of 2011, a few days after tents started popping up on Rothschild Boulevard. in Tel Aviv, a group of us were hanging out with protesters. Some of us were veteran activists, others were not. We all had kids ages one and a half to four.
This group initiated an unprecedented protest: the "stroller march," which brought tens of thousands of parents to the streets for a power demonstration around the intolerable cost of raising children in Israel.
Until that moment the social protest focused mainly on the cost of housing. The parents' protest expanded it to other issues. The challenge we faced was to take parents out of their comfort zone and bring them to the streets. Parents of young children, unlike students, usually have fixed routines and little free time for protests. It was almost an impossible task. So when tens of thousands of parents got off the couch and marched with their kids, strollers, and yellow balloons all over the country, we felt the change had begun.
We realized that the people who started the social protest didn't know what kind of economic disaster awaited them. We certainly had no idea know before we became parents. Israel invests a lot in fertility treatment, but from the moment the child is born and until s/he reaches the age of four all expenses fall solely on the parents.
By not taking responsibility for children under the age of four the state created a situation in which many women could not return to the workforce after giving birth. Several years later when the children grew up and the mothers wanted to go back to work, they were rejected and excluded.
We felt we had to flood a painful subject: the cost of raising a child in Israel. What we later called "the second mortgage" – 3000 shekels [almost $800] a month for a daycare – was a topic that parents were embarrassed to speak about with others. We took our slogans from the daily lives of young families. "Grandma isn't a bank," was one of them.
[Translator's note: in 2011 the minimum monthly wage was about $1000 and the median wage was $1590. Needless to say, younger workers,  who tend to have young children, earn less on average.]
We had to say out loud – we expect the state to pay the price of raising children in Israel. Five years later, we still believe that had we chosen a "softer and more motherly" message we would have received sympathy and approval, but not change in policy. Mothers usually fight for the child's interests, but money is men's affairs.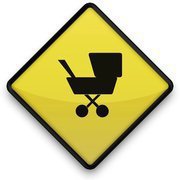 The idea of a stroller march was at first a joke about our physical condition – most of us came to the Blvd with strollers and knew there was no chance we could sleep in a tent. Our social condition reflected our limitations too – we were no longer young independent women with free time on their hands. We were raising children and whatever we did had to include them. We designed a logo (thanks Ronen Eidelman), opened a Facebook page and off we went.
The Facebook page of the first Tel Aviv march suggested that 6,000 people intended to participate. We were skeptical and asked for a march permit only for 500 people. At the same time mothers from all over the country contacted us asking to organize local marches in their cities. We spoke to them about the message and told them to organize marches wherever they saw fit. To our surprise these mothers were not the only ones. The closer we got to the date, we discovered more and more Facebook pages of stroller marches:  in Rishon Lezion, Rehovot, Ramat Gan, Givatayim, Jerusalem, Eilat, Be'er Sheva, Haifa, Herzliya, Ashkelon, and Ariel.
The Thursday on which we held the first march, nine-thousand families marched in Tel Aviv and tens of thousands marched in 16 other cities around the country.
It was a collective coming out. We erased the taboo of not speaking about money and "negative things" in the context of our children. Each of us got dozens of phone calls from grandmothers and mothers telling us: you have to make it work. You have no idea what this does to us financially.
The the protest's most impressive achievement was free pre-K education for all. [Translator's note: in January 2012 Israel's Cabinet approved free education for children starting at age 3.] This reform saves thousands of shekels a month for families. Later our protest was reincarnated in the struggle to add a third teacher to pre-k classes, and in what was named "the Sardines protest" to reduce the number of children in classrooms. Last year this protest too was successful and the state reduced the maximum number of kids in a classroom from 40 to 34.
But the stroller march had additional revolutionary implications. Since that march, parents have become a significant political force, a pressure group that transcends sectarianism (right-left, secular-religious, Arab-Jew). Parents found their electoral potential. Mothers discovered their political power. Every activist knows that moment of political empowerment. It is a point of no return. The realization that you have the power to change society.
Our lives, the lives of the mothers who organized the stroller march, took a turn. Some of us entered national or municipal politics. We are members of associations, lobbies and initiatives that continue to make demands on the government and see achievements. The protest changed the career path of most of us: moved to work in nonprofit or in the public sector. Some of the mothers who took part in the protest, were elected to city councils and most are still very active in PTAs, schools, and hold official positions in the local authorities.
The strollers' march is often used as an example for the success of the 2011 social protest. We succeeded in diverting state budgets to education. But our biggest success is in organizing parents into an interest group which has the ability to identify injustice and whose needs should be addressed.
Quality public education is the state's most important economic investment. It will provide the conditions for growth and prosperity. It will prevent poverty for twenty percent of couples who become parents. We will continue to demand change in policy – a policy sees only markets and fails to see citizens. A policy that fails to see the interests of the public as a whole.
Authors: Anat Rosilio and Shelley Dvir
Hebrew original: The Hottest Place in Hell. July 11
Translator: Maya Haber