TRANSCRIPT
The Perils of Annexation
This webinar was conducted by Partners for Progressive Israel on June 25, 2020 as a part of Stop Annexation Now campaign. Ambassador Dr. Husam Zomlot, Head of the Palestinian Mission to the UK, and Ambassador (ret.) Ilan Baruch, chair of the pro-two-state Policy Working Group, discussed the dangers posed by unilateral Israeli annexation of West Bank territory. The conversation was moderated by Ms. Shaqued Morag, the executive director of Shalom Achshav (Peace Now in Israel) and was followed by a Q&A session. It has been edited for length and clarity. The full webinar can be accessed here.
Leonard Grob: Hello.  Welcome to this latest installment of Conversations with Israel and Palestine hosted by Partners for Progressive Israel. Conversations with Israel and Palestine is a series of informational webinars that bring voices from Israel and Palestine to provide an important link between progressives in the US and in the Middle East.
My name is Lenny Grob and I'm a vice president of Partners for Progressive Israel. Partners is an American not-for-profit dedicated to the achievement of a durable and just peace between Israel and its neighbors and believes in the need to ensure civil rights, equality and social justice for all Israelis.  Right now, Partners for Progressive Israel's main focus is preventing Israel's annexation project. We invite everyone to visit the Stop Annexation Now page on our website.
We have two co-sponsors for this session, Americans for Peace Now and Meretz UK which is a British not-for-profit organization, independent yet affiliated with the Meretz party in Israel. The organization enjoys close ties to the Jewish Labor Movement and other progressive Jewish groups.
Let me introduce our moderator, Shaqued Morag. Shaqued has served as the executive director of Shalom Achshav, Peace Now, in Israel for the past two years.
During that time, she has presided over Peace Now's campaign against the racist nation-state law and most recently, of course, is leading the fight to prevent annexation. Before joining Shalom Achshav, she served in senior positions in the Meretz party
Shaqued Morag: Thank you so much, Lenny. As Lenny said, I'll be serving as the discussion moderator over the next 60 minutes.
We have with us dear Ambassador Dr. Husam Zomlot Head of the Palestinian Mission to the United Kingdom. Prior to this appointment to the UK, Dr. Zomlot served as Ambassador to the United States as the Head of the PLO General Delegation to the United States, and Strategic Affairs Advisor to the Palestinian President. Dr. Zomlot's previous official roles include also serving as Ambassador-at-large for the Palestinian Presidency and Director of Fatah Foreign Relations Commission.
Dr. Zomlot holds a PhD in economics from the University of London, was a professor of Strategy and Public Policy at Birzeit University, where he co-founded and chaired Birzeit's School of Government, and held a number of teaching and research positions at Harvard University and at the University of London.  Zomlot has been a UN Economist and LSE Economic Researcher.
Our other panelist is Retired Ambassador Ilan Baruch, who was until recently the policy advisor to the chairperson of Meretz. In March 2011, Baruch resigned from Israel's Ministry of Foreign Affairs on grounds of principle, after a 36-year diplomatic career that included postings in Asia, Europe, and Africa.  He was a founder of the Palestinian Autonomy Department; Head of Coordination of the Multilateral Peace Process; and Head of the Middle East Division for Economic Cooperation.
Baruch was also a team member of the Israeli delegation to the Oslo Peace Interim Accords negotiations, and participated in various negotiations with the Palestinian Authority, Jordan, and Egypt on economic agreements.
Ilan Baruch is currently the Chairperson of Policy Working Group, a team of activists devoted to promoting a Middle East Peace Process based on two-states. Baruch is  an editorial board member of the Palestine-Israel Journal and co-founder of a new cultural center start-up, the Palestine House in Tel Aviv.
I'd like to open with the same question for the two of you: Why is annexation so dangerous.  Why is it so urgent that we are gathered here discussing this? Dr. Zomlot.
Dr. Husam Zomlot:  Annexation poses an existential threat. Let me from the very outset clarify this point. It does not pose an existential threat on the people of Palestine, the cause of Palestine. There is no such a thing as an existential threat on 13 million people. Once a journalist asked me, "What if Israel does to you what it did in 1948? What if a wholesale transfer happens, ethnic cleansing? They send you on buses off East what happens?"
I told them nothing will happen. We will just become a diaspora agency and the liberation movement from outside. Actually that's exactly what we were before 1993. The existential part is about the two-state solution. It's a threat, an existential threat on the two-state solution not on the people of Palestine or the cause of Palestine, There will be so many other ways of manifesting justice and legality, it's not just the two-state solution.
However, the annexation is an imminent existential threat to the very notion of partition. For Netanyahu it serves three functions. Three purposes. The first is personal. It simply has allowed him to be reelected, to dodge criminal charges. He is obsessed about being the one who erected the Second Israel.
The Second Israel is a greater Israel, Israel from the river to the sea.  Most likely he will not be remembered as that. He will be remembered as the one who ended the first Israel. He will be remembered as the one who has really undermined the first Israel, in one way or another a semi-democracy. There is the political function of this whole annexation.
The political function is a diversion. Because all of us are up in arms focusing on annexation and almost feeling like, should Israel pause and postpone or cancel annexation, it will be rewarded. Already Netanyahu has managed by focusing on this issue to divert the attention from the end of the occupation, the cessation of settlement expansion. Nobody is talking to Netanyahu and to the Israeli government about these real issues.
Strategically, annexation for Netanyahu would simply preempt any possibility of a two-state solution, any possibility of a Palestinian state. The map for us is very clear. The moment the Israeli government announced that it intends to annex on the 17th of May, we immediately absolved ourselves of all signed agreements. Why? Because that commitment by this wide coalition government means that Israel has abandoned any agreement based on two states and the 1967 borders.
The Oslo declaration of principles were based on Security Council resolutions 242 and 338. In Oslo, Israel reversed its decisions and its annexation of East Jerusalem because it accepted that Jerusalem is a final status issue. In Oslo, Israel also accepted the other five permanent status issues including borders, settlements, refugees and what have you. The declaration of annexation takes Israel back 180 degrees to reverse its decision to put all these issues on the table. Legally speaking, we had to absolve ourselves, It doesn't make sense that you actually stay committed to agreements that the other side has just nullified.
What they are talking about now is the entire West Bank. Go back to the ultimate deal, the Trump deal. Israel has overall security control from the river to the sea. It doesn't matter if they annex parts of the West Bank here and there, but effectively it is the annexation of the entire West Bank. Be it the whole West Bank on one centimeter, it's about the principle.
Read my lips:  that will spell for us an announcement by Israel of the end of the two-state paradigm. We will give back full responsibility of the occupied people and land to Israel, and we will go back to the pre-1993 dynamics. This is not to abandon the platform, but this is to abandon the mechanisms that Israel has been using for the last 27 years to sustain the status quo.
This is to go back to reorganize, regroup re-energize. There's much to add later on in the discussion.
Shaqued: Thank you so much.   Mr. Baruch, can you please give us another angle of this, maybe the Israeli point of view, why is annexation so dangerous for Israel?
Ilan Baruch: I'm very grateful to the organizers and also to Husam for his introductory remarks. We are talking about no less than a dramatic change of the game.
Annexation by Israel of Palestinian territory of even one inch would be a paradigm change. We have been living in an uncomfortable coexistence with the Palestinians on the premise that occupation will end with a negotiated peace agreement. Annexation is actually a one-sided unilateral act of designing the future in a way that removes once and for all any option for a Palestinian opportunity for an agreement.
This is very dangerous for Israel, but it is also dangerous for any future relations between Israelis and Palestinians and Israel and the Middle East. I can see a catastrophic result, such as the fragmentation in Jordan, a threat to the Hashemite house, waves of violence in the region beyond Jordan and within Israel and Palestine.
Violence is a possibility that we need to take into account. Annexation is a very irresponsible move forward by a government that is looking at its own narrow agenda. I think Netanyahu is squarely motivated by ideology, and the ideology Netanyahu is leading is designed to defeat the Palestinians, not only on the ground but also in the narrative, the Palestinian narrative that needs to have a space alongside our narrative. It is the objective of the Netanyahu government to destroy it.
Where does it take us? Let me tell you. For 3 years I was assigned to South Africa, In apartheid South Africa, for each white person, there were five or six black people with no future, no rights, no privilege. The whites were running a fairly liberal democracy in South Africa with a relatively speaking Free Press, with a parliament that was operating, and with everything that looked like a democratic Western society regardless of the vast population of black people that had no share in this.
If we go for annexation and Palestine is rendered a conglomerate of small spaces with no full control, we will find ourselves in an apartheid situation. As of now, on the West Bank, for each and every settler, there are five or six Palestinians with no rights, and all the settler community and politicians are very proud to say that there are 600,000 settlers in the West Bank who could not be removed. They tend to forget that there are two and a half million Palestinians. Unless they're being removed by force, they have no intention of going anywhere.
Not only that this is a horrendous future for Palestinians, it is also a bleak future for us, Israelis, because a society that exercises injustice on a scale that reminds us of apartheid South Africa has no future. It's unsustainable. Palestine actually should have been given an opportunity for independence and statehood and self-determination in the post-war period of "decolonialization."
It so happened that the case of Palestine was different. Palestine should have been already an independent state maybe 50, 60, 70 years ago. It didn't happen.
we can use the language of decolonization and say that Palestine needs to be liberated. Unfortunately, it needs to be liberated from us. I can tell you that in Israel, there is a constituency for that, one that is ready and prepared to take part in any future quest to see Palestine break the yoke of Israeli domination and begin to bloom as a separate independent state.
This is the job Husam is undertaking as ambassador of Palestine in London. This is a job I'm exercising as a player in international civil society of activists who are capable of reaching out to the international community. Few former members of Knesset wrote a letter, a petition to hundreds and hundreds of members of parliament in Europe. 1,080 parliamentarians in Europe, European Parliament and national parliaments signed this petition calling for putting a stop to any attempt at annexation.
We need to use this world crisis around annexation for regrouping and re-coordinating a universal struggle to see Palestine finally remove the domination of Israel, and begin a new phase of partnership between two nation states, side by side. Then my last point is for our conversation, I think that we should not see a two-state solution as the objective of our work. We should see two-state solution as a callable to the main objective of peacemaking, and that is reconciliation.
But you cannot defeat someone and then request reconciliation. We need to allow a generational rehabilitation of Palestinian society into a normal nation without Israeli domination and interference, and then we can reconcile our issues. Peace is just the beginning of the hard work of reconciliation.
Shaqued: Since Trump's deal of the century was first declared, we've been hearing that this is actually a two-state solution because it offers a Palestinian state.  How do I explain in Israel that this is not actually a peace plan, and why the Palestinians wouldn't even be willing to respond to it.
Husam: It isn't a plan, and definitely has nothing to do with peace. It is far from a two-state solution.  The plan's first claim is that international order is irrelevant.  In fact, it was the international order that created Israel. By making it irrelevant then Israel and those who really want to see "the first Israel" need to be absolutely worried. It was the international order that required us, the Palestinian people, the Palestinian leadership to accept the two-state solution.
The two-state solution was never a Palestinian demand. Prior to 1988, the PLO platform called for one secular democratic state of Palestine from the river to the sea. Under international pressure, the PLO accepted the premise of the two-state solution via the UN Security Council. The two-state solution from the Palestinian prospective marked a concession towards peace.
Then, our late President, Yasser Arafat, recognized the State of Israel on the 1967 borders. Attacking that equilibrium, the international law equilibrium, is not good for us, is not good for Israel.
The second part of the Trump deal is that Israel shall have full security control from the river to the sea. Read it. How do you have Israeli security control of the Jordan River, the eastern border of the supposed state of Palestine? How do you create a state surrounded by Israeli presence? The idea is not really a state it's very clear in that document.
Why twill they then give us a bit of cash? Because they come all of them from the real estate business. In the real estate business, somebody gets the property and somebody gets the cash. I interacted with this team many times.  I must have met them 32 times in the White House accompanying my president, Abbas, when he would visit Washington and when President Trump visited Palestine as he did in Bethlehem in May 2017.
This is the way they think. The Trump thing is simply a document that tells you that Palestinians are not worthy of collective rights of national rights of the right of self-determination of independence and sovereignty, let alone the right of Palestinian refugees to be resolved fairly and justly in accordance with all the agreements between us. All that they deserve is that we may improve their livelihoods and living conditions under occupation. We will maintain the slave master relationship in the historic land of Palestine.
The Palestinian cause belongs to a nation that is very vivid, very rooted, very talented, very mobilized. The 13 million Palestinians rejected the Trump plan. We are united in our purpose, in our narrative., Our narrative is not going to be unchanged, it would only be solidified with our new generations.
Don't listen to Netanyahu on normalization. He has a couple of friends here and there, but the Arab world despises him. Even In Tunisia's discussion of its new constitution delegates introduced a section on Palestine and Israel. We have support in the region no matter what. The support is historic and has to do with religion, history, and civilization.
Netanyahu can inflate and exaggerate his claims of Sunni support for his purposes, but he's lying. We do have serious international support, and thanks to Netanyahu in the last few months particularly, this international support has been magnified. He has brought back the issue of Palestine to the fore when we have suffered in the last few years of some sort of marginalization because of other issues in the Middle East, other issues worldwide.
We are coming together. We saw the demonstration in Tel Aviv. This is very important what happened there.  We have followed the letters by some members of the Knesset, by some Israeli former security personnel, we follow the Jewish community and real activism in the US. In Europe, by the way, the letter you just mentioned from 1080 European parliamentarians including 260 UK MPs was initiated by progressive Jewish organizations in Europe and in Israel. We see this as a movement together.
Understand that this issue is an issue of nationhood, statehood, self-determination, legitimate rights, people who really want to achieve peace through achieving the rights. Short of that no real estate deal is going to do.
The main thing for Netanyahu is whatever keeps him in power.  Now he enjoys what we call in strategic studies a "power surplus," or excess of power. This power surplus is due to the military and economic supremacy flowing from the relationship with the US.  Then there is the Palestinian authority, taking care of the entire occupied population. It's a five-star occupation, Israel can do as it wishes without international consequences; this is exactly what I mean by power surplus.
This power surplus in the '90s enabled Israel to impose a solution on us, but it didn't work. The idea in the '90s is that let's impose a solution to the interest of Israel, to the benefit of Israel, advantage in Israel because of the power surplus. It didn't work.
From 2000 to 2010 the surplus increased and it wanted to manage the conflict. Just it's a conflict management. Lately Netanyahu has felt so much of a power surplus that he wants to liquidate the conflict. He wants to redefine the conflict from a conflict of national movements, conflict of political, and legal manifestations, and considerations, and frameworks to one of living conditions, an "economic peace."
The Palestinian people are one of richest in the region. We have close to the highest per capita PhD graduates worldwide. End the Occupation, and there will be a real economic takeoff.
Shaqued:  Thank you so much, Ambassador Zomlot.  Now some questions.  Lawrence Joffe from Meretz UK asks both speakers:  how should supporters of peace and two states respond in a post-annexation reality? Would carrots or sticks work better? Should they ask for Jews and Palestinians work together or separately?
Ilan: Europeans ask us, "what do you want us to do?". We say incentives and disincentives. In the first place, everyone was sitting outside the American Vatican waiting for the white smoke. First of all Palestine needs to be recognized as a state so that it gains at least parity of esteem to enter the negotiations room. Second, It is about delivering substance on all the issues.  I think that the international community needs to offer incentives for the two parties, but at the same time, disincentives of the two parties if they do not make the necessary compromise for a deal. So far Israel suffers no disincentives, and this needs to change. Israelis are very keen to be accepted overseas, and any criticism of Israel abroad is taken very seriously in Israel.
Criticism of Israel was long restrained for reasons that have nothing to do with Palestine, but it had to much with the history of Jews in Europe, the Holocaust and so on. There's a lot of guilt involved here and I think that we need to move forward. I don't think that the Europeans need to give up on the sense of commitment to the Jewish people, but they need to distinguish between the Jewish people and the government of Israel. I think they need to take a far more critical stand on the policies pursued by Israel because the policies are immoral and unsustainable, and threaten the international order.
Shaqued: Thank you. I want Dr. Zomlot to answer this and as well address a question by Aviva Meyer, vice president of APN Board, who asks about a poll by Dr. Khalil Shikaki that was published in Israel Hayom that says that more that 60% of Palestinians are indifferent to the call of the Palestinian Authority against the annexation plan.
Husam: Thank You, Shaqued.  First, this isn't about people who are for Israel and people for Palestine anymore. I think there must be a movement, a global movement versus the current global fascistic movement.  It's not just against Netanyahu. Netanyahu is allying himself with the worst. He's the ally of Trump, of Bolsonaro, of Orban and so on.  He wants to ally with the far-right movement worldwide. It's a phobic right movement, and by the way, this movement hates the Muslims and hates the Jews, and hates the Sikhs, and anybody who is "other."  We need to start thinking not in terms of ethnicities and color but in terms of principles or values.
What are the values that could bring us together? These are universal values, and they are not even to one religion. These great human values are the values of the Jewish faith, the Islamic faith, the Christian faith: equality, freedom, justice, in all religions, and in all cultures. This annexation threat is an invitation for a global movement that should come together from all walks of life to defend our principles and our values.
The second point I want to make is how crucial the Jewish communities on the outside are. Support for Israel has been monumental.  It has been a key pillar upon which Israel has relied all these years, in the strategic sense, military, economic, political, legal, what have you. We are now seeing lots of opposition here in the UK. The Jewish community is writing letters and the public is opposing the annexation, even writing a letter to ask the UK government not to accept the proposed Israeli ambassador to the UK because of her annexation advocacy.
The real alliance of Netanyahu, especially in the US, is with the evangelical movement, and I don't need to stick my neck out too much to tell you what the evangelical movement ultimately believes. If I were an Israeli I would be absolutely scared and unhappy about this alliance. In effect, there is an abandonment of the relationship with Jewish, especially progressive, voices, and an increased alignment with this right-wing worldview.
70% of the Jewish community in the US are Democrats, liberals, and progressives. They vote Democrat, regardless who's the candidate. We know that the Jewish community in America was one of the founders of the anti-war movement and supported the civil rights movement. We saw the viciousness of the extreme right wing and the white supremacists against the Jewish communities in the US and the synagogues. What is happening is not just against the Palestinians, it's against the Jewish communities in America. We find ourselves in the same trench all of a sudden, in the very same trench, and up against the same hostile ideologies. If you look in the US, who are the most adamant voices for Palestine in the US? They're all Jews supporting the Palestinian cause.  This will be magnified and come to fruition.
The next question is from Aviva and about Palestinian polling.  Well, clearly the majority of Palestinians want to see an end to Israel's occupation. The majority of the Palestinian people want to see an independent sovereign Palestinian state, and they need a state that defends them. They are the ones who need security. It's their sons and daughters that are being killed. It's their lands that are being stolen on a daily basis. A state would be the guarantor of their rights.
Earlier in the Corona pandemic, I was in London, the only ambassador who could not send our people back home. There were so many people stuck there because we have no airport; we have no national airline, so people want a state. The majority of Palestinians, even within the PLO and including Hamas, now have the two-state solution as a platform. Any poll that shows you 60% will not go and fight for it should be a cause of despair for you and me. It means people have lost hope. It means that people will fight for their rights but not necessarily for some sort of a solution, which is the two-state solution. This is very worrying.
I say it every day: produce hope. Recognize the State of Palestine, level the field, impose, activate the differentiation between Israel and the settlement products. Impose sanctions not to only ostracize or punish but to say to the people on both sides you are serious about peace, and peace is possible
Shaqued:  Is East Jerusalem a model for future annexation, including the "legal resident" status of its population?
Ilan:  The Khalil Shikaki survey referenced earlier detected a growing impatience and speculative support for armed struggle against annexation. If we go to annexation, we might find ourselves facing a new Intifada, and this needs to be calculated into what we think of annexation. Of course, Netanyahu wants to portray everything as normal and claims that annexation leads to peace, but we know this is false—outside Israel Hayom.
East Jerusalem is a case that will have to be studied in the light of the intention of my government who create a new population in the West Bank, that is becoming people living within Israeli territory without Israeli citizenship, without the right to vote for the Knesset. Netanyahu already made it clear in a response to a question in an interview that the Palestinians living in the Jordan Valley and in the territory intended for annexation, we estimated about 60,000 to 80,000 people will have no citizenship in Israel. This will be nothing other than apartheid.
In East Jerusalem, we already have a similar situation, and the only reason why it is tolerated by many is that it is perceived as an interim situation that is to be solved through negotiations of core issues. I think that Jerusalem is a good case for us to study as to what can happen with annexation, because Israel in '67 annexed Jerusalem, and in 1980 passed a Basic Law, Jerusalem united under Israeli sovereignty and as the capital of Israel. The world reacted in a strong way.  Security Council resolution 478 declared this decision to annex Jerusalem null and void and demanded action. The few countries that had embassies in Jerusalem at the time, were requested to remove their embassies to Tel Aviv, and this actually happened.  We are now in a different situation. 40 years have passed, and we need to reinvigorate our struggle against annexation, not only new annexation but also the annexation in Jerusalem.
Shaqued: One last question:  "Is the Palestinian Authority willing to negotiate with Netanyahu?   I can tell you that personally I've heard President Abbas saying that he's offered a few times to negotiate with Netanyahu.  As an Israeli who sees Benny Gantz or used to see Benny Gantz as the potential next prime minister in Israel, what would it take for the Palestinian Authority to negotiate with Benny Gantz, and who could mediate that?
Husam: Yes, I can answer that. Let me go back to the question about apartheid. It's a very important question. I think apartheid has existed for a long time with two different separate legal systems in one territory operated by one government. This is the UN definition of apartheid. In Israel, there are three separate legal systems that have been operating for decades.
The first is for Israeli Jews, and it is semi-democratic, it has all the needed social welfare and democratic institutions and what have you. The second is for the Palestinian citizens of Israel, and the recent Nation-State Law has specifically underscored that they are not really full citizens as they can never have collective rights or the right of self-determination. That's a different legal system for them by lawt. The third system is for the Palestinians under occupation in the West Bank and Gaza. In this third system, there are four subsystems: one that has to do with the West Bank, a second one that has to do with Jerusalemites. Different legal systems, even, the color of IDs and the way Israel deals with the people there. Then there is the third sub-category, the people in Gaza, which is the worst category. You are besieged you are in an open-air prison. The fourth is for Palestinian exiled diaspora, refugees outside and not allowed even to visit, let alone return.
Back to your question about the who can mediate. Everybody was hoping against hope and wanted to see what will happen in the Israeli elections, and what will happen in the American elections. This syndrome lasted for 27 years. This brings me back to my first assessment. Should Netanyahu go ahead with annexation, I think the talk about apartheid will take center stage in Palestinian national politics, We chose to focus on creating a state, ending Israel's occupation, achieving our sacred national rights. We chose to focus on this.  Should an annexation happen, it's a new chapter, new territory, new terrain, new arena. Only God will know what happens after an annexation, but for the time being our focus should be on preventing annexation.
Only the Palestine Liberation Organization has the legitimacy and the mandate by all the Palestinian factions that have been elected by their constituencies to negotiate on behalf of the Palestinian people.  Even Hamas has said that it agrees with the PLO negotiating on behalf of the Palestinians under one condition: any agreement has to be offered for a national referendum. Is the PLO willing to negotiate with Netanyahu? Is the PLO willing to negotiate with Gantz? I don't think this is about personalities, Shaqued. This is not about the person at the helm of Israeli power. It could be anybody. This is about the fundamentals.
We engaged the government of Rabin in 1993, because we saw that the fundamentals were engaged. The international framework was UN Resolutions 242 and 338. All the real issues were listed clearly which indicated Rabin's government acceptance to reverse even the annexation of Jerusalem.
It's about our rights. It's about the possibilities of reaching an agreement. By the way, we have wasted 27 years.  President Abbas says he is willing to meet any Israeli prime minister under the international framework. He is willing to meet any Israeli leader but not in Washington because the Trump administration cannot be a fair and trusted mediator.
We want to go in the direction of negotiations that end the conflict, but the key here is fundamentals. Remember, Netanyahu was elected in 1996 shortly after the assassination of Prime Minister Rabin on one platform plank, to derail everything. I must give him credit, he has been very successful so far.
Shaqued:  I'd like you to address the issue of de facto annexation because as a movement in Israel Peace Now, that is tracking and monitoring the expansion of settlements, I can tell you that de facto annexation is a phenomenon that has been happening for the last decade in a speedy version, and from the moment that Trump was elected, faster still.
First, what do we have to do to stop the de facto annexation? It might seem to the international community and to Israelis and Palestinians that the threat is over.  "Isn't it even better to declare, this is what Israel really wants, the de jure annexation and not only the de facto one.".
Ilan: Annexation was folded into occupation since day one. Now, Netanyahu is moving it into the full daylight. We should not be satisfied with shelving the annexation because this will put it back into the embryonic stage of annexation that exists in occupation. I want to tell people it's not the moment for desperation or a sense of defeat for the pro-peace left. It is a moment for regrouping and putting our energies together. I'm very inspired by the presentation of Ambassador Zomlot.
Shaqued: Thank you so much, Ilan.  Please Ambassador Zomlot, your closing remarks.
Husam: First, as to de facto annexation versus de jure. We've never seen the Occupation as a de facto annexation. We saw throughout the Oslo period that Israel has agreed to define its presence in the occupied.  The Oslo process was a mechanism to actually roll back that temporary occupation, and create a permanent situation of two states.
Now, what Netanyahu is proposing is turning the temporary into a permanent. It's not about de jure. The announcement by this government and this pertains to Gantz, because he is a key member of this government, is an announcement that reverses Oslo. That's the heart of it.
There is some despair, lack of hope, but we've been there before, and we are capable of reproducing hope, and I assure you it will be reproduced very soon. We want to end Israel's occupation that began in 1967. You've heard it a million times, but it's good to be clear and straightforward.  We want to establish a state on the 1967 borders with East Jerusalem as its capital. We want to resolve the issue of refugees in accordance with international legitimacy, resolutions, law, and in accordance with the Arab Peace Initiative. We understand we must negotiate these matters. We also know that this cannot be achieved now via Washington, and we are pushing in the direction of international mechanism.
I don't like the argument about demography being a threat. Human beings are not a threat. We are there, and we have sustained and withstood a great deal.  There are 6.5 million Israeli Jews now in the same area as an equal number of Palestinians. In terms of demography we know that we are there, and that is not even to mention the 6.5 million Palestinians outside, the refugees and the Diaspora. We aren't going anywhere.  So in the end, this is about Israel, how it wants to define itself, for itself, for the region, and for the international community.
This is a moment that we feel empowered, and I link back to Ilan's final remarks about hope.   We almost went away in the last few years, and now we are back, and we want to do something, and I think this coming together is much bigger in numbers, is much bigger in values and principles, is much closer to international equilibrium and principles. I think in the end, Netanyahu can have his moment in the sun, but it will be brief.
We don't have the power, but it's a matter of when not if. It's a matter of time. Thank you very much for having this conversation. Allow me to say that we are partners in the path toward ending this and defeating those people who don't want to make us believe that there is a better tomorrow.
Imagine a situation when we can move freely, when we can work freely, when we can travel freely. They merge, the partnership would be huge. Israel is one of the most high-tech countries very well connected to the West. We have the most educated, the youngest, and are very well connected to the East. The partnership will produce a blast, but we have to defeat the sick, the maximalists, the ones who think they can have the cake, and eat it too.
Shaqued: Thank you, Husam, for your empowering statements. I think you've summarized the Israeli peace camp position as well.  We believe it is not in Israel's interests to occupy, or to annex, or to oppress the Palestinian people in anyway. I truly believe that most Israelis when asked, agree.  I personally see this huge crisis as a huge opportunity.  It's our job to point to an alternative, and to keep the hope for an authentic peace as you've just described, instead of constant conflict and oppression.
Leonard: Thanks to all of you for joining us, and stay safe.

Thanks to David Abraham, Member of Partners' Board of Directors, for editing and condensing this discussion. The full video is available on the Partners' website here.
—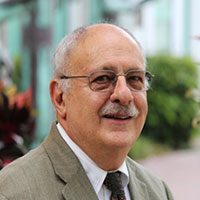 David Abraham is Professor of Law Emeritus at the University of Miami and a member of PPI's Board.