Return to Israel Horizons main page
My wife and I had made two previous visits to Israeli as tourists, but the June 2018 Partners for Progressive Israel Symposium was our first trip with a political organization. We had no previous knowledge about PPI, other than what was on their website, and felt comfortable with their nuanced position on BDS. We signed up because we wanted to get a better sense of what is happening in Israel – and definitely accomplished that goal.
The 8-day symposium, based in Tel Aviv, was filled with meetings and travel to all parts of Israel and the West Bank. The meetings were both informative and often emotional; we had frequent mood swings, from discouragement and despair to hope and belief that joint Israeli and Palestinian activities could actually make a difference for both sides.
For me, the most moving event of the symposium was a meeting arranged by the 'Bereaved Parents Circle', a twenty-year-old organization of families on both sides who had lost close relatives – usually children – to violence in the conflict. It describes itself as the only organization whose members hope desperately that it never grows by a single member. We met two bereaved fathers in a room in the American Colony Hotel in Jerusalem. The Israeli father had lost his 14 year old son to a terrorist bomb; the Palestinian father had lost his ten year old daughter to a bullet fired by an Israeli soldier.
The Israeli father spoke first. His son had gone to Ben Yehuda Street in Jerusalem on a Saturday night and never returned. The account from the Israel Ministry of Foreign Affairs reads as follows:
Adam Weinstein
Dec 1, 2001 [during the Second Palestinian Intifada] – Adam Weinstein, 14, of Givon Hahadasha, was one of 11 young people killed on Saturday night at the Ben Yehuda pedestrian mall in the center of Jerusalem.

At about 11:30 P.M., two suicide bombers detonated explosive devices on Ben Yehuda Street, the pedestrian mall frequented by many young people on Saturday night. A car bomb exploded nearby 20 minutes later. In addition to the 11 people killed, about 180 were injured in the terrorist attack.

Adam Weinstein was celebrating a friend's birthday in a cafe in Jerusalem. At 11:30 he was on his way with his friends to take the bus home. A few minutes before the suicide bombing, his mother and brother called him, and he told them, "I'm on my way to the bus." Five minutes later he was killed.

Adam lived in Givon Hahadasha, a community north of Jerusalem. He was the youngest of three brothers. "Adam was a computer genius", said his brother Assaf. "He was a good soul, who never cursed. He had many friends, who were always with him. He was a good and talented ninth-grade student, who liked playing basketball and playing the piano," said his older brother.

Adam Weinstein was buried in the Givat Shaul cemetery in Jerusalem. He is survived by his parents and two brothers, Assaf and Eidan, both soldiers.
I asked myself despairingly: "What could be more heartbreaking; what could fill you more with hatred for "the other side" than your own child being killed?" Hearing the story, I could not help feeling anger and rage toward a group of people whose main goal is to kill Israeli citizens. I could only imagine how I would feel if my son was killed by a terrorist bomb. What kind of people can commit such random acts of violence?
Next we heard the Palestinian father's story. His 10 year old daughter was shot and badly injured at her school and taken to the hospital. A hearing was held at which an Israeli soldier who was at the school said the daughter must have been injured by other Palestinian children throwing rocks. The girl's father felt the soldier was belligerent and not credible in his testimony. After the case was dismissed for lack of evidence, the Palestinian father told the Israeli soldier that if he came to his house and apologized, he would forgive him. His daughter died four days later and the case was reopened. Investigators found that the bullet that killed his daughter had been fired from the soldier's gun.
At the second hearing, the solder's demeanor was much less belligerent; the father felt the soldier may have been affected by the offer for forgiveness, i.e. recognizing that Palestinians too are human. Nevertheless, the case was again dismissed for lack of evidence. Why it was dismissed when the bullet clearly matched the soldier's gun was not at all clear, but that is usual in such circumstances.
How can an Israeli soldier kill a 10 year old schoolgirl, lie about it, and there be no repercussions? Is there any hope for mankind when there is so much hatred, so much disregard for human life?
It took years, but both fathers were able to overcome their initial feelings of anger and hatred toward the "other." The two men are now the closest of friends and frequently appear together to tell their stories, in the hope that their shared sorrow will help other Israelis and Palestinians to realize the waste and pointlessness of the ongoing conflict. Hearing them, and seeing the bond they have formed, I had to wonder if I would ever be able to overcome my own anger if my child was killed by "the other side," whichever side that might be. During their talk, my mood went from anger to frustration and sorrow, but finally to hope that if these two men could make peace with each other, maybe there is some chance for mankind after all.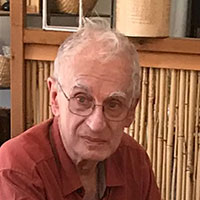 Bob Peters
Bob Peters is "mostly" retired. He has a PhD in Physics, was a physics professor, then a satellite consultant for INTELSAT, IRIDIUM, and NASA, and is a member of Temple Sinai in Washington, D.C.