During the week of Passover, I was fortunate to spend my days at Hosh Jasmin, an organic bio-dynamic farm and open-air restaurant in the countryside of the West Bank/Palestine. They regularly accept volunteers to work on the farm in exchange for three meals a day and a place to sleep.
Walking down the steep hill that leads to the farm and restaurant, I did not know that I was walking into such a magical place. Just beyond the main streets of Bethlehem, this gem is well known by locals, who come nightly to play ping pong, eat delicious food and be with friends. It is also frequented by internationals, most of whom work in some area of peace-building.
During the morning I picked beans, known as 'fool' in Arabic. Not just any old green string beans–but big, juicy beans whose pods tasted like flowers. Breakfast was served at about 11:00 am. It was a large spread of labeneh with fresh oilve oil, home cooked pita (houbaise in Arabic), organic eggs, hummus, and some variation of a saucy vegetable dish.  On a full stomach, I was off to work again.
I climbed the almond tree (as seen in the photo above) to pick all of the green almonds. The young unformed nuts have a fuzzy exterior and sour watery interior. They get cooked in oil and then made into a dish that uses a hard cheese for flavour.
When it was discovered that I am an artist, priorities shifted. Rather than being sent to work on the mountainside, I was handed a large pad of watercolour paper and sent to draw. As I sat drawing the valley for hours over three days, I was given tea, lunches, beer and praise. I met journalists and locals, all of whom came to look at what I was doing. It is rare as an artist to be supported in the adventure of making art; it was an immense gift.
Next, I was given a large canvas, oil paints, an easel and paintbrushes. I set up inside the house of the restaurant and painted from memory. Again, people came to talk to me and tell me how they appreciated my presence.
Before I came here, I read many articles about Israel and Palestine. The images attached to describe Palestine were either of dirty urban spaces and graffitied walls or of violence. It is like describing all of the features of the United States with protests in New York. It is not accurate or humanizing to the people who live there.
Palestine's tall grasses and wildflowers are akin to those on the coast of England. Most hillsides driving through the West Bank are patterned with olive trees. They are flecked with sheep. The smells of Spring permeate the fresh air, which carries the sounds of happy birds.
Moreover, the people are genuinely friendly. Friendly in a way beyond any measure of my behaviour as a Canadian. By and large, Palestinians welcome visitors with warm smiles and a passionate handshake/hug. People want to share their stories and visions of peace. They go out of their way to ensure the comfort of visitors. This is an opinion shared by the internationals I know here, not a unique experience.
It can be easy to be swept out of the world of politics in places like Hosh Jasmin. However, at the risk of slightly contradicting myself, at every vast valley view I have experienced of Palestine there is a reminder of the situation. Whether it is a settlement on the next hill, or a blocked-off road, politics cannot be ignored forever. If you turn your eyes up long enough you can catch the Israeli Defense Forces driving through the mountains, and people being stopped at distant checkpoints.
At Hosh Jasmin, a road built after the Second intifada for Israelis to drive on, is close enough to hear the vehicles. It has a wall on one side and a checkpoint near the farm. The road has a tunnel that was dug un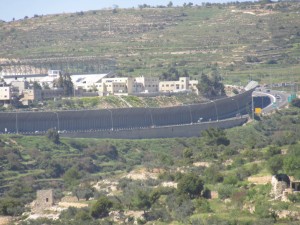 der Hosh Jasmin. The tunnel ruined the natural spring which was the water source for the farm.
The stone fences and dome houses are part of the collection of abandoned houses in the wake of the war of 1948. The people on the farm revived the buildings in 2012, breathing life back into old homes.
Trying to understand the politics here from afar is very complex. Life here is often framed in binaries of us/them, Israeli/Palestinian, one side/the other side. But places like Hosh Jasmin show the dimensionality of life and struggle. Politics, culture and history are complex, but up close they are also more beautiful than one could ever imagine.