28 July 2023
Partners for Progressive Israel has endorsed and welcomes the introduction of a congressional resolution to "stand with all Israelis seeking to defend liberal democracy and opposing any steps that undermine Israel's future as a Jewish, democratic state."
This resolution, authored by Representatives Jan Schakowsky (IL-09) and Annie Kuster (NH-02), focuses on three critical issues:
Democracy is at the core of the special relationship between the United States and Israel;
Congress opposes actions that undermine Israel's future as a Jewish, democratic state; and
Congress stands with all Israelis seeking to defend liberal democracy, judicial review, and independent political institutions acting in a system of checks and balances.
You can find the full text of the bill here and the press release is here.
In addition to Schakowsky and Kuster, the resolution is cosponsored by Representatives Jerry Nadler (NY-12), Jamie Raskin (MD-08), Julia Brownley (CA-26), Gerry Connolly (VA-11), Madeleine Dean (PA-04), Rosa DeLauro (CT-03), Anna Eshoo (CA-16), Dan Goldman (NY-10), Barbara Lee (CA-12), Mark Takano (CA-39), and Susan Wild (PA-07).
We urge you to contact your Congressional representative today and ask them to add their name to the growing list of co-sponsors of this resolution.  We need to send a strong message to the Netanyahu government that the United States firmly supports Israel's pro-democracy movement.  If you don't have your Member's contact details, you can find them here.
Thank you for your support of Israelis' basic rights.
Partners for Progressive Israel
============================================================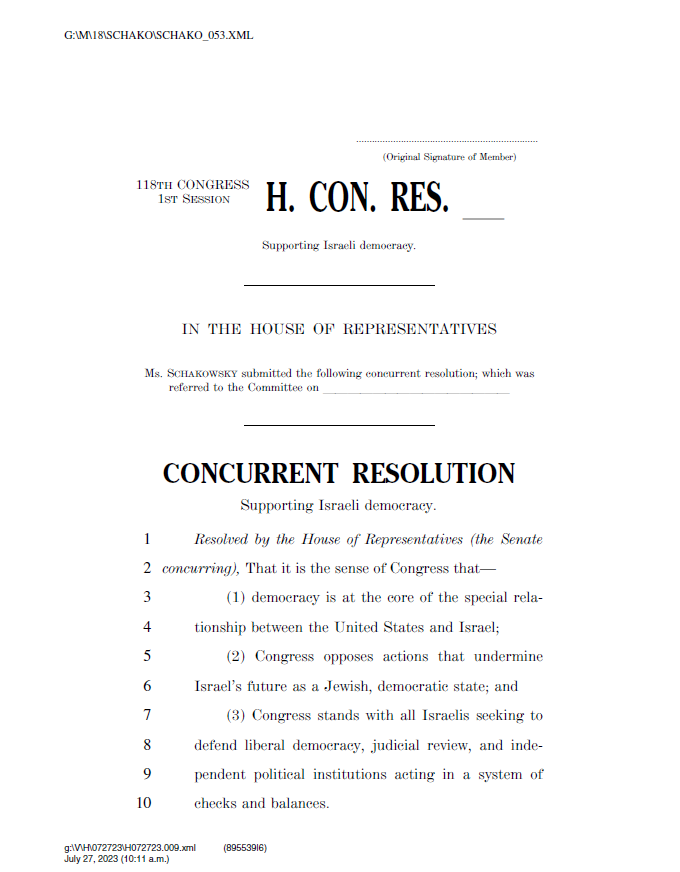 Press Release by Reps. Jan Schakowsky
.