"My analysis," Rami Hod said, "is that the problem of the Israeli left is a root problem, a radical problem, one that won't be solved in two years, or in five. If we want to rule, if we want to achieve dominance of the center-left, we must be in the day-to-day lives of the people, helping them in their community, in the municipality, in their union, and in all aspects of their lives."
By Matti Friedman
Published originally in Tablet Magazine October 15, 2014
On the streets with the guerrilla organizers who may breathe life into Israel's moribund left
A good place to begin understanding what life is like in Israel right now, in the fall of 2014, is a small apartment full of toys in a crumbling block outside Tel Aviv—far from the international spotlight, and under the radar of the many who are deeply, even obsessively fascinated by Israel's politics, but uninterested in its people.
A 63-year-old woman sits in the living room. In another room are two napping 1-year-olds. Across the street stands a small grocery store near a few overflowing garbage bins, and beyond them, on the other side of Highway 4 and thus inaccessible from here, a gleaming office tower bearing the name of a real-estate developer—the new Israel.
Aliza Yadey has been running a day-care center in her home for nearly 30 years. This kind of informal arrangement is called a mishpachton, from the Hebrew word for "family," and is a key part of life for working Israeli parents. Yadey, who has 10 grandchildren of her own, has now cared for the children of parents whom she cared for as children. She refers to herself as "one of the poor" and identifies as "right-wing."
Yadey is also one of the success stories of Israel's reawakening labor movement and a new sign of life on the country's shattered left. She seems most proud of the times that officials told her she has "balls" or a "dirty mouth." She has now been kicked out of the Knesset twice for shouting, and her expertise, she says, is "overturning tables."
Aliza Yadey's unlikely persona—a foul-mouthed labor organizer who fights for the poor while identifying herself as right-wing—makes sense in today's Israel. In the 1990s, the left invested all of its political capital in the dream of achieving peace with Israel's neighbors and abandoned the country's working class. When peace efforts collapsed, the left collapsed along with them—it had nothing else to offer. The result has been the hegemony of the right, and it is against this backdrop that the new labor activists have appeared.
[su_youtube_advanced url="https://www.youtube.com/watch?v=KaGwnn8AumM" playlist="o5SiPwEJW0o"]
Video Caption: July 2016 – In-home daycare teachers demonstrated in front of Prime Minister Netanyahu home against harmful employment. They say the state determines their employment conditions but does not give them basic rights.
The chant: "We won't be exploited – all power to the teachers  — Pensions, Rights, are not luxuries."
***
Six years ago, Yadey and two other women with home day cares traveled to the Knesset, hoping to speak to someone who might sympathize with their plight. At the time, Yadey says, the standard wage for a woman caring for five children in a government-subsidized mishpachton was 3,200 shekels, or $915 a month, before expenses. This meant that the women were working full-time jobs and often living in poverty.
A Labor Party lawmaker who met them that day suggested they contact a new group trying to organize unions for neglected portions of Israel's workforce. The women had not considered the idea of a union. Because they worked alone in their homes, they did not see themselves as part of anything larger than themselves. And for them, as for most Israelis, "unions" had come to mean powerful concerns—port crews, civil servants, the electric company—represented by the stagnant bureaucracies of the Histadrut, the Zionist movement's 94-year-old old labor federation. Yadey had never heard of this new group, but she liked the name: "Power to the Workers."
When she met one of the group's organizers, he asked how many workers there were in her situation. She had no idea; she knew only of herself and her two friends. "He said, 'Find out—I can't unionize the three of you.' "
Working a cellphone from her living room during nap-time and after work, and ferried around by her husband Shlomo, a retired policeman, Yadey found other women and spoke in their homes and at community centers. She made the same point everywhere: They would better their lot only if they were represented at the tables where other people were making decisions about them. They needed a union. She made friends with ultra-Orthodox operators with their own day cares and with their friends. She comes from a traditional Yemeni family and knows what is appropriate, so when she went to speak to them she wore a long skirt and sleeves past her elbow.
One day she happened to speak to a worker renovating an apartment in her building, got a phone number, called the man's mother-in-law in the Arab town of Ar'ara, and arranged a meeting at the town's community center. Shlomo drove her there, leaving his knitted skullcap and police-issue handgun at home. Her two friends called her cellphone a few times to make sure she had not been harmed—Ar'ara is not a place where many Israeli Jews make casual visits.
She arrived to find 300 women assembled to hear her union pitch. They were "the loveliest women you will ever meet," she says. "You say, come fight—and they come."
The women in Ar'ara signed up en masse. Through them she got to their relatives and friends in other Arab towns, because that is how it works in Israel, and then as far as the Druze of Majdal Shams on the slopes of Mt. Hermon. The union brought out 100 women for a protest in Jerusalem, then 500, then 1,200. Organizers from Power to the Workers handled details and provided legal advice. When her phone bills got too high she learned how to use email.
Yadey and Power to the Workers have now unionized 2,700 women with home day cares, most of them Arab and ultra-Orthodox. The women avoid national politics and get along fine. They have succeeded in raising wages by 40 percent.
***
Around the severe 1950s building that houses the cramped offices of Power to the Workers are no fewer than seven enormous cranes engaged in raising luxury housing projects—the new Israel. Across the street from the office in central Tel Aviv, construction teams work behind a safety wall decorated with the image of a rugged urbanite leaving the gym, a towel over his shoulders. Near the man's stubbled chin are the phone number of a sales office and the name of a real-estate developer.
Israel is a country in the midst of an unprecedented economic boom; this is clear to anyone who has been in Tel Aviv recently. Real wealth is evident for the first time in new landmarks like the Ferrari dealership that opened here in 2012.
Shay Cohen, secretary of Power to the Workers, looks at the same landscape and sees a different country. In this country, the trappings of prosperity obscure the growing weakness of working people. The idea that once sat at the center of the national psyche, the radical modesty and egalitarianism of the kibbutzim—like Ashdot Yaakov, the commune Cohen's parents left around the time he was born—has been jettisoned, for better or for worse, in favor of venture capitalism and the bottom line. Some studies put Israel in second-place in income inequality in the developed world, after the United States.
Israel's move to privatization of government services, the increase in workers employed indirectly through contractors, the growing gap between rich and poor, and the fact that most new jobs are low-paying and in the service economy—these developments warn Cohen and his colleagues that Israel is following America into a future where prosperity will be enjoyed by few on the backs of a disenfranchised many. He sees wealth not trickling down to poor people, but crushing them.
Cohen is 39. He wears jeans, does not tuck in his shirts, and has a combative pose even in normal conversation—head down, eyes peering forward over the rim of his glasses. Though it is tempting to describe Power to the Workers as radical, in some ways the group is conservative; it is fair to say that if David Ben-Gurion sat in Cohen's office and looked out the window, the two men would see things the same way.
In one cellphone video shot earlier this year by a the leader of a bus drivers' union whom I met, Cohen can be seen in a fluorescent yellow vest at a bus depot before dawn, arguing with a furious supervisor—"There are laws in this country," Cohen is telling the man—as drivers from a fragile new union convince reluctant colleagues to join them in shutting the depot down.
The driver, Nissan Nimni, described the tactics used by the company against the organizers, all of them drawn from the old union-busting manual: introducing a rival union linked to management; threats of termination for some workers and bribes and perks for others; mysterious toughs outside a striking depot one day, apparently from one of the Negev Bedouin crime families; foot-dragging in collective bargaining alongside legal action against the union. The drivers currently make $1,700 a month, and the union is trying to win a modest increase and guarantees of job security. Like the union of the day-care workers, the drivers' union is ethnically mixed, with nearly half of its members coming from Arab neighborhoods in east Jerusalem or Arab towns around Israel.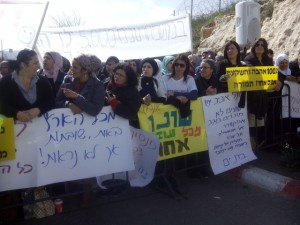 ***
Power to the Workers was founded by a small group of academics and activists, including a former baggage handler, Ami Vaturi, who led a wildcat strike at Ben-Gurion Airport in 2006 before completing a doctorate in northern European labor relations. Israel's economy had been remade by modernization and privatization, they saw, but organized labor had barely changed its institutional structures since the 1950s. The Histadrut labor federation, the workers' old representative, had become the protector of entrenched interests and was uninterested in rocking the boat—"a retarding agent," in Cohen's words. (As I wrote this article Israeli papers reported that Ofer Eini, until recently the chairman of the Histadrut, has accepted a job at one of the country's biggest banks. He will be advising them on labor relations.) When a 2008 court ruling granted Power to the Workers legal recognition as a union representative, it became the first new Israeli labor organization to appear since 1934.
If the Histadrut is a standing army—powerful, clumsy, top-heavy—Power to the Workers is a guerrilla faction. It operates with a staff of 10. Since it opened shop in 2007, the group has organized unions representing 25,000 Israeli workers, including waiters, employees at a chemical plant, Orthodox ritual slaughterers, security guards, janitors, and junior lecturers at a university. The workers speak mostly Hebrew, Arabic, and Russian. The group gained 6,000 new dues-paying members in the past year alone.
The group's impact is larger than indicated by those numbers, which are still small. The new energies and competition have infected the creaky Histadrut labor apparatus, which opened a new organizing office in 2010 and scored a major success last year with employees at Pelephone, one of the country's big cellphone companies. Activists from a left-wing youth movement have been organizing the young workers at local McDonald's franchises and in the Israeli chain Burger Ranch.
The trend was boosted by the wave of economic protests that swept Israel in the summer of 2011, centered on the tent-city of Rothschild Boulevard in Tel Aviv. The protests, which were neither the revolution touted at the time by cheerleaders nor the naïve failure described by cynics, launched new political figures like Shelly Yacimovic, who briefly led the Labor Party, and the 29-year-old Labor MK Stav Shaffir. They revealed in dramatic fashion a deep discomfort with the country's slide away from the welfare state.
After years of stagnancy in organized labor, around 100,000 workers have unionized since 2011, according to Rami Hod. Hod is the director of the Social Economic Academy, an outfit that trains organizers and community activists, and is a former Power to the Workers organizer himself.
"This is the only social phenomenon in recent years that is a success of the Israeli left," Hod said when we met in a chain café near the basketball stadium in south Tel Aviv. "If we look at the basic message of the left—solidarity, protecting the weak, raising the minimum wage, opposing privatization, fighting together, Jews, Arabs, ultra-Orthodox, everyone—this is the one area where we are winning."
Hod and others believe that this is how the left can remake itself as a political force. But when he speaks to Israeli party leaders, strategic consultants, or foreign audiences, he said, many seem not to care. People like Aliza Yadey and her 2,700 Arab and Jewish women, or Nissan Nimni and his 1,000 Arab and Jewish bus drivers, are secondary to grand questions of war and peace—they are the unseen drones in the basement of the moral Disneyland so many see when they look at the Jewish state. More people are paying attention now. But still, Hod said, "I have seen people doze before my eyes."
***
Today, the remains of the organized political left exist in the moribund party structures of Labor and Meretz, which have no hope of winning an election; in the shells of a few venerable organizations like Peace Now, whose high international profile belies their lack of local support; and in a small corps of activists who have increasingly forsaken Hebrew for English and have traded the frustrating pursuit of political influence among their countrymen for moral posturing and the easy, meaningless applause of Israel's foreign critics. Polls show that that many left-wing positions have majority support—the public does not support settlements or indefinite rule over the Palestinians, for example. Nor does it support privatization. But the left has gone from being the country's dominant political force to a marginal player.
"My analysis," Rami Hod said, "is that the problem of the Israeli left is a root problem, a radical problem, one that won't be solved in two years, or in five. If we want to rule, if we want to achieve dominance of the center-left, we must be in the day-to-day lives of the people, helping them in their community, in the municipality, in their union, and in all aspects of their lives. The religious Zionists know this. The ultra-Orthodox know this. We're sure we have an electorate—but the truth is we have no electorate. Holding a peace conference in Tel Aviv is nice, but it's about as helpful as going to the beach."
Aliza Yadey says she "loves" the organizers from Power to the Workers, whom she calls "salt of the earth." "They wear T-shirts and khaki pants, like people used to wear. They don't wear ties," she said. Her husband Shlomo has gone with the organizers to May 1 rallies and gay pride marches, and Aliza now sits on the group's board of directors. They know the organizers are from the ideological left, of course. But they do not identify with the left themselves; they say they belong to the right.
Who helps Yadey when she goes to the Knesset on union business? Moshe Gafni, an ultra-Orthodox power-broker from the United Torah Judaism party. When she needs something for her women, she said, she can always count on Gafni. He once took her to a committee meeting and "banged on the table as if his daughter was in the union." Shlomo nodded: "Gafni is a lion," he said. The politicians of the left have been unable to do this for Aliza, so they have no claim on her sympathies or her vote.
When I mentioned this to Shay Cohen of Power to the Workers, he said he was not concerned. Cohen is interested in a change much deeper than the election of one party instead of another. Unionizing, for the organizers, is a way to fundamentally alter the way things work—a project whose utopian nature occasionally gleams through the prosaic details of contracts, pension arrangements, and strikes.
If Israeli workers wield political power, he believes, if they sit in city halls and in parliament alongside the wealthy and their representatives, they will make decisions that benefit workers. "I don't care who Aliza votes for in the Knesset," he said. "I care about getting her into the Knesset. Which party she's in isn't important. When her voice is heard and other voices like hers are heard, things will change."