29 August 2023
Last month, Partners for Progressive Israel endorsed the introduction of a joint House/Senate resolution to "stand with all Israelis seeking to defend liberal democracy". We're delighted to now inform you that this concurrent resolution, "H. CON. RES. 61 Supporting Israeli democracy", is gaining serious momentum: The resolution has been referred to the House Committee on Foreign Affairs, and its co-sponsorship has quadrupled (!) to 48 Members of Congress.
Last Friday, Haaretz reported on our participation in an open letter that urges U.S. lawmakers to support H. CON. RES. 61. The paper described the letter as "the most thorough and organized affirmation of the protest movement from the U.S. Jewish establishment to date".
H. CON. RES. 61, authored by Representatives Jan Schakowsky (IL-09) and Annie Kuster (NH-02), and cosponsored by such Members as Jerry Nadler (NY-12), Jamie Raskin (MD-08), Barbara Lee (CA-12), Dan Goldman (NY-10), Jamaal Bowman (NY-16), and Pramila Jayapal (WA- 7), stresses that any special relationship between the U.S. and Israel must be based on democracy. And, in a clear rebuke of the Netanyahu government, it states that "Congress stands with all Israelis seeking to defend liberal democracy, judicial review, and independent political institutions acting in a system of checks and balances".
You can find the full text of the resolution on our website.
While the resolution does not refer specifically to the Occupied Territories, where no democratic structures have ever existed, it is clear that, should core democratic institutions cease to function within sovereign Israel, the struggle being waged by our anti-Occupation allies within Israel and Palestine will be severely compromised.
We urge you to contact your Congressional representative today and ask them to add their name to the growing list of cosponsors.  If you don't have your Member's contact details, you can find them here.
Partners for Progressive Israel
============================================================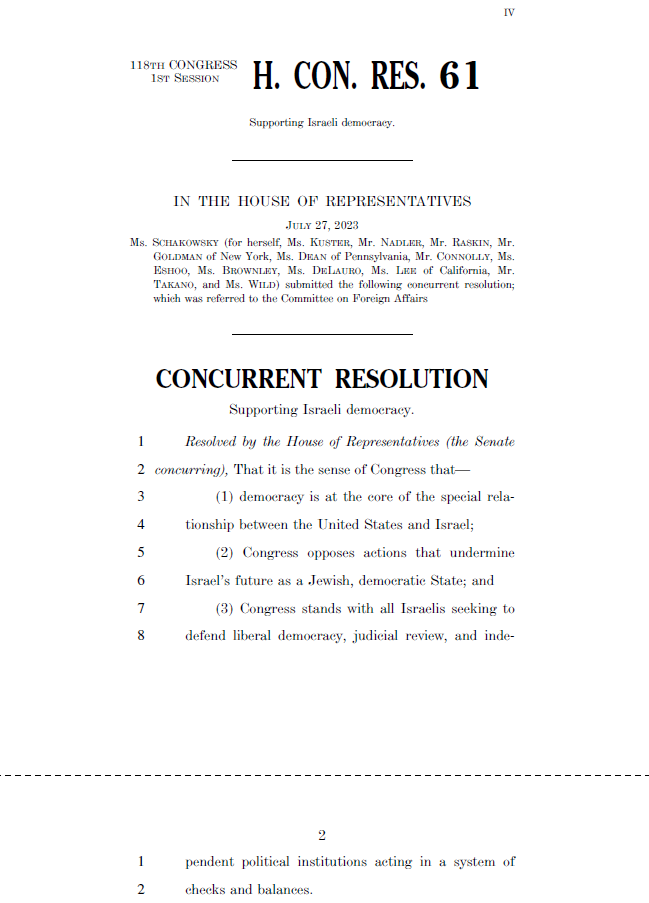 .