Friends,
I, like many of us, have had calls from friends and family in Israel asking American Jews to stand with them in their fight for a Democratic and Jewish Israel; faithful to Israel's Declaration of Independence.
"…will foster the development of the country for the benefit of all its inhabitants; it will be based on freedom, justice and peace as envisaged by the prophets of Israel; it will ensure complete equality of social and political rights to all its inhabitants irrespective of religion, race or sex; it will guarantee freedom of religion, conscience, language, education and culture…"
On the occasion of International Women's Day, I share two open letters I recently received from Israeli women who are asking American Jews to join their fight.
Partners for Progressive Israel is committed to supporting those who stand up for democracy, as here in the U.S., democracy is a foundational frame work, not perfect, even fragile, yet an abiding commitment to human rights for all.  Over the coming weeks and months, Partners will continue to bring more messages sharing what we, as Americans, can and must do, in support of our Israeli friends and partners, to help FIGHT FOR DEMOCRACY & END THE OCCUPATION!
Ayala Emmett
Partners for Progressive Israel Board Member
March 8, 2023
Open Letter from Israel #1
Our Brothers and Sisters in the United States,
Our Partners in the Jewish Destiny and the Values of the State of Israel:
Please join us in the decisive struggle to preserve the Jewish and democratic character of the state, which was established 75 years ago and inspired by the prophets and with the aim of shaping a Jewish state based on the values of justice and ethics, which are the foundation of our existence: "Zion in judgment will be redeemed and those who return to her – in justice" (Isaiah 1:27).
And in the spirit of Abraham, "to do what is just and right" (Genesis18:19).
I am drawing on the Bible because it is the source of Jewish justice and ethics and our very foundation. We are a nation of laws.
We are grateful for Partners for Progressive Israel who are standing with us in our struggle. Thank you on behalf of the troubled and concerned citizens of Israel, regardless of their political or identity affiliation, across religions and ethnicity.
Matia Kam
Israeli writer and commentator and lives in Givatayim.
Open Letter from Israel #2
These are particularly difficult times in Israel. It is not a disease or an enemy threatening the State of Israel, but an official leadership of the State of Israel that intimidates and seeks to put an end to Israeli democracy. There is no way to overestimate the severity of the problem; corrupt leaders, or those accused of committing serious offenses, are breaking down the delicate checks and balances of Israeli society and plunging us into an abyss from which there will be no turning back.
The fear is great, but the event has not yet occurred, so we don't have the right to remain silent. This is the time to act, to work hard and fast to remove the dark cloud hovering over Israeli society. My friends, my colleagues, and I run as fast as we can from one demonstration to next, we write Facebook posts and use every possible platform to influence public opinion and prevent this disaster. The difficulty we now face is that we are struggling against a political leadership that has a frightening combination of messianic ideology and leaders who have been involved in criminal activity and have nothing to lose. Zealots and criminals do not believe in compromises.
One of our greatest fears these days is that we will lose you, Diaspora Jews and especially American Jews. You, who supported the State of Israel in its struggles in the past. If you say that you are tired of the State of Israel, we understand. Still, we want to urge you not to lose faith in us and not to abandon us. We need you more than ever.
And what exactly do we need? Not your money. We are not asking for donations. What we need now is a covenant of destiny (as defined by Rabbi Soloveitchik). Last Saturday night, while we were demonstrating in front of the President's Residence in Jerusalem, we heard that you, too, in different parts of the world, have demonstrated for us. I have no words to describe the joy and excitement that gripped me.
The uniqueness of the Jewish people lies in the fact that it is made up of communities scattered all over the world. This time the Israeli community is in trouble, this time the danger is from within. We, here in Israel need your determined demonstrations. Please, raise your voice, and without delay. Write on social media, take to the streets, and use your professional and social networks to influence what is happening in Israel.
Please come to Israel; if you come to celebrate a bat or a bar mitzvah – celebrate it with the Women of the Wall. Incorporate in your trip a tour of the Occupied Territories (various NGOs such as Combatants for Peace and Breaking the Silence conduct tours in English), have conversations with Palestinians and peacemakers from Israel. Talk to people on the street. Visit Israeli Palestinian towns. Come and pray in the liberal egalitarian synagogues.
The time is short and the work for democracy is sacred. The struggle is tough but I am optimistic that together with you we will win. Our hearts are full of gratitude for standing with us.
—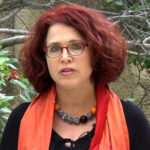 Ruhama Weiss is a professor at HUC in Jerusalem, a published poet and writer.