J Street's national conference, March 21-24, has to be counted as a resounding success.  It got a lot of media attention, was informative, lively and well-attended.  While its 3,000+ participants do not compare in numbers with AIPAC's reported figure of 16,000 at its national meeting, this is way ahead of the 600+ who attended last month's membership conference of the Jewish Voice for Peace. J Street is the vehicle of choice for liberal Jews who are active on the Israel-Palestine issue (including a surprisingly substantial proportion of kippa wearers).  And even AIPAC should make note of something observed by one speaker: that 1100 students were in attendance for J Street, as compared with AIPAC's 1200.
J Street conferences traditionally begin with a celebratory roll call on stage of representatives of its various chapters; this year's event focused upon its youth branch, J Street U, which has members on 60 US college campuses.  One J Street U activist was particularly remarkable: Amna Farooqi, a Pakistani-Muslim American from a heavily Jewish town in Maryland, who mentioned being inspired by our fellow blogger, Paul Scham, who teaches Israel Studies at the University of Maryland.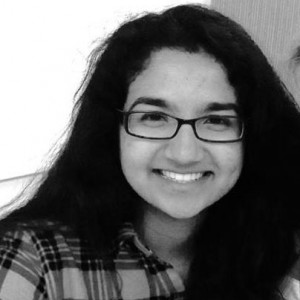 Ms. Farooqi's poise and good humor were in wondrous evidence as she related having fallen "in love with Zionism," because it's a movement historically defined by a downtrodden people "taking ownership of its future."  As she spoke of her positive experience studying in Israel, she also mentioned how disheartened she was by Israelis she met who were ignorant of, or indifferent to, the suffering of Palestinians a few miles away under occupation.  So even when delivering the most passionate Zionist speech of the conference, she was very much in sync with J Street's concern that reasonable Palestinian aspirations for their freedom be met.
And I've never heard Jeremy Ben-Ami speak better than on the opening night, indicating J Street's support for the Obama administration reconsidering its approach by outlining a framework for an Israeli-Palestinian peace agreement. (He observed the remarkable fact that a mere 23% of Israelis directly voted for Prime Minister Netanyahu — a result of Israel's peculiar multi-party system of proportional representation.) Without giving up on Israel's rights and concerns, Ben-Ami was resolute on the need for a two-state resolution of the conflict, and urged activists to challenge their local Jewish community institutions — their synagogues, JCCs, federations and charities — to bring back the Green Line (the 1949-'67 armistice boundaries) on maps of the region and in their funding decisions (i.e., to decide against contributing funds that support settlements).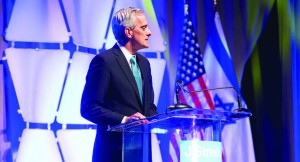 J Street's national stature was reinforced by a major speech by Pres. Obama's chief-of-staff Denis McDonough.  At first, McDonough seemed to be delivering a Democratic campaign speech, making me wonder if he was dodging the issues raised by J Street, as Vice President Biden had more or less done in his appearance at the previous national conference in 2013.  But no, the issues he went on to articulate did go into detail on Israel, and did indicate that the administration is in accord with J Street:
. . . President Obama has said that we need to re-evaluate our approach to the peace process and how we pursue the cause of peace – because, like all of you, we care deeply about Israel and its future. We will look to the next Israeli government to match words with actions and policies that demonstrate a genuine commitment to a two-state solution. And, like every administration since President Johnson, we will continue to oppose Israeli settlement activity since it undermines the prospects for peace. Meanwhile, we share Israel's concern about the security environment in the region – which is why, as part of the last round of talks – the President and Secretary Kerry had General John Allen prepare a detailed plan to provide for security in the West Bank over the long-term.

In the end, we know what a peace agreement should look like. The borders of Israel and an independent Palestine should be based on the 1967 lines with mutually agreed swaps. Each state needs secure and recognized borders, and there must be robust provisions that safeguard Israel's security. An occupation that has lasted for almost 50 years must end, and the Palestinian people must have the right to live in and govern themselves in their own sovereign state.  . . .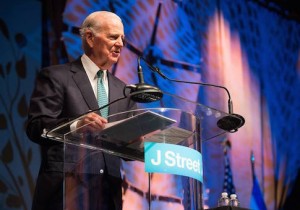 During the gala dinner event on the conference's closing night, a Republican figure from the past, former secretary of state James Baker , also delivered an important address which drew media coverage.  He recalled the efforts of the Bush senior administration that he had served, which opened the door to the 1990s peace process with the Madrid Conference.  His views were so clearly aligned with those of J Street that the campaign of Jeb Bush, which Baker serves today in an advisory capacity, felt the need to push back, lest it alienate the stridently hawkish pro-Israel stalwarts of today's Republican party.
A plenary session (Does Liberal Zionism Have a Future?) chaired by a J Street co-founder, the think-tank analyst Daniel Levy, achieved something of what it set out to do, to "challenge our comfort level."  In fact, I squirmed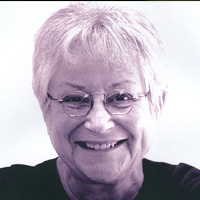 when one panelist, one-time MK and Brit Tzedek V'Shalom founder Marcia Freedman, basically read herself out of the pro-two-states camp; seeing no prospect for two states any longer, she pronounced herself okay with Jews living as a minority in a one-state Israel/Palestine.
Although a harsh critic at Algemeiner.com went overboard in claiming that she actually called for Israel's "destruction," I agree that she endorsed "dhimmi" status for Jews, to live there as a "tolerated minority."  I find her viewpoint intolerable and highly unrealistic for at least two reasons:
Jews created Israel in order to take control of their destiny as a people rendered powerless (to their detriment) for almost two millennia;
the Muslim world today has a horrendous record toward its minorities.
But this is not to say that J Street should be condemned for allowing someone to voice this view. Nobody else on that panel or even at that conference articulated such an opinion, yet I wish that someone had challenged Ms. Freedman on it.
(Ironically, the presence of PLO negotiator Saeb Erekat — which had prompted Hillel's Eric Fingerhut to withdraw his participation in a lame protest — seemed quite innocuous in comparison.)
On that same panel, Peter Beinart urged support for any opposition to Israel's occupation of the West Bank and East Jerusalem that is non-violent and recognizes Israel's right to exist.  Depending upon one's perspective, one may characterize this view as either harsh or strong, but Beinart's two conditions reconfirm that he is still in the pro-Israel camp.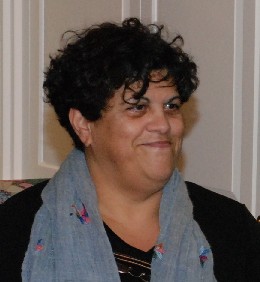 Another lively plenary session (more to my liking) featured an array of elected Members of Knesset from the Labor, Hatenua, Yesh Atid and Meretz parties, alongside Nabila Espanioly, an unsuccessful candidate of Hadash/Joint Arab List.  Fireworks exploded when a number of MKs criticized Hadash for including the stridently nationalistic Arab party Balad in the Joint List; this choice made it difficult for them to envision the Arab parties as now wanting to fully participate in Israeli politics, rather than simply expressing dissent.  One MK mentioned how Balad had vetoed an excess-votes agreement with Meretz, which might have won more seats for the center-left bloc.
Ms. Espanioly labeled this criticism "paternalistic," and defended this choice as energizing Israel's Palestinian-Arab sector. Interestingly, the Meretz MK Tamar Zandberg spoke out on behalf of Espanioly.  In the main, however, the remarks of Espanioly and the MKs were upbeat and positive.
This panel marked my first awareness of Ksenia Svetlova, a newly-elected MK of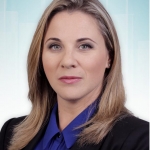 Hatenua/Zionist Camp. An immigrant from the former Soviet Union, she's had a notable career as a journalist reporting on the Arab world; she is fluent in at least four languages: Russian, Hebrew, Arabic and English.  I was very impressed with Ms. Svetlova and others on a high-quality panel entitled, "Arab Spring, ISIS Fall?"
If you have the time and inclination, I suggest perusing sessions online at this website: https://www.youtube.com/playlist?list=PL4CViXUNRkO7rGPLf5cDI6arF9rXKj8x7