The original article was written by Nir Yahav and published in Walla Magazine on December 22, 2016. We thank Dana Mills for translating and Peter Eisenstadt for editing.
In early December, to the surprise of Israel's right-wing government, the Knesset passed MK Ilan Gilon's bill on a preliminary reading making disability benefits at least equal to the minimum wage. In effect the bill would more than double the monthly allowance paid to the disabled to equal the minimum wage. Currently disability benefit is 2,341 shekels ($616), while the minimum wage is 5,000 shekels ($1,315).
Gilon, who has been trying to further this bill for years, was so moved he could not stop his tears. " I cry easily" he admits smiling. "All week long I am tough and on Wednesdays when all proposed my bills fall through in the Knesset, I cry. Even now just speaking about it, I feel weepy. This is the fifth time I propose this bill. That morning I was about to remove it as I knew it would fail again, but at the last minute I decided to go through with it.  I got to the podium and said: "look, for years I've been explaining to you about this bill. Now explain to me why you oppose it after speaking so beautifully for disabled people yesterday on Disability Day. I managed to convince five coalition MKs to leave the hall and not vote." And the bill passed preliminary vote 42 to 39, despite the treasury's firm opposition to the proposal, due to its cost.
"Look at the enormous tax breaks the government gave Israel Chemicals Ltd." Today, Israel's four largest exporters pay only 4% tax, compared with 12.4% a decade ago. "I am fed up with this 'social' etiquette. I can't stand it. The only kind of justice I believe in is distributive justice."
But this was only the preliminary reading. Your Disability Allowance Increase bill must pass three more Knesset votes and it can still be toppled.
True, but to me all the channels of hope have been opened. I don't think time can be brought back. I want to cooperate with the government and allow Netanyahu to take this bill. I am willing to compromise. The state has the money, it will cost only 6-7 billion shekels [$1.8 billion] over two years. I want to build a model in which people get their benefits according to their status and pay taxes according to their income, including their benefits. That is the fairest policy. My model builds a security net against anxiety. I plan to expand the political basis of this matter and create a situation in which the government can't ignore it. They understand they can't reverse matters. I now have a significant moral achievement, and if the bill passes it will be the groundwork to change legislation, meaning that the state takes back it responsibility for its citizens. This is my goal: giving the responsibility back to the state. Because abandoning citizens is worse than paternalism.
"I think the richer should be taxed more heavily, because I think society's biggest problem greed. Had I written the Ten Commandments "thou shall not covet" would come before "thou shall not steal."  People who steal baby food from a grocery store are not the problem. The problem is the filthy rich. Look at Israel Chemicals Ltd's tax breaks, look at the tax breaks tycoons are getting. An ideal society for me is a society in which people know to ask themselves once a day what they give to the country and twice a day what they get from the country. This will be a society which is not terrified about tomorrow. But our government uses scare tactics to rule. It's weaponizing our wonderful multiculturalism to create alienation and separation."
The making of Ilan Gilon
MK Ilan Gilon was born in the town of Galatz in Romanian Moldova. When he was seven months old he was struck by Polio. He was paralyzed and suffered a severe lung edema. The doctors didn't expect him to live. Miraculously he came through and only his right leg remained paralyzed. He says his luck as a child  was his size. "I had a limp, but I was a very large kid and scared the entire neighborhood," he remembers. "That is why I survived the kids' mean behavior. Whichever way you look at me, I'll always be a Special Needs child, a son of a mother who packs oranges for a living and an electrician father. I am hardcore working class, that is my caste, this is the reality I lived: the scruffy Ashdod hood among Romanian, Moroccan and Iraqi immigrants. That is why I identify first with the disabled and oppressed and I will never disengage my view point.
Weren't you mocked as a disabled child?
I never considered myself disabled. One day one of the kids in class said to me:' you know, when I look at you, I don't think about your leg at all.' It changed my life. When I was in the sixth-grade I told my mum that I couldn't walk 40 Kilometers with the other kids at the youth movement. She looked at me and said: "just like there are people who walk 80 kilometers on two feet, you can walk 40 kilometers with one." There, in my childhood, I gained compassion towards disabled people. To this day, I answer anyone who calls me and return calls to whoever needs me. I feel the public sponsors me and and I need to solve the people's problems, or at least try. This reflects my memories of vulnerability. I wish people would be "weak enough to feel and strong enough to change reality."
Gilon immigrated to Israel when he was 9 years old. Until the fourth grade he attended a special needs class and sat near the teacher. He says, he was a very mediocre student and "couldn't sit still." One day the teacher asked the class how much is seven times eight. "I knew the answer because in Romania they teach how to multiply in the first grade. The teacher was astounded and transferred me to a regular class. I served on school committees and was elected chair of the school's Students' Union".
Gilon's mother, Rachel, influenced him more than anyone else. Speaking about her, Gilon's tone softens and his eyes moisten: "she was the type of woman who threw herself into everything. She didn't make any concessions for me. When I was a child I had many surgeries, because of my paralysis. I remember once afrer a surgery  my mother, who was a small, slender woman, carried me, a huge child in her arms. That is what she was like.
My mother always said I shouldn't go to demonstrations so that I wouldn't be on television. I told her, "mum, I am going to demonstrations because I want to be seen on TV". The paralyzing fear of state authorities which they had brought with them from Romania stayed with my parents. My father, who was a simple man but the kindest in the world, was fearful of my political affiliation. He didn't understand why I couldn't join a mainstream party like LIkud or the Labor Party."
Party Politics
Meretz used to be a large party. Where did it fail?
"I am not the only component of the party. I am trying to do what I think is right. My entire world view is based on one verse of Psalms: " Turn from evil and do good: seek peace and pursue it."
I don't always succeed, but I try. The prophets Jeremiah,  Isaiah and Amos are my kind of prophets. They speak of the three divisions: the distribution of national wealth, the distribution of the land and the distinction between church and state. Sometimes I think there are people on the Left who love humanity more than they love human beings. We must establish relationships formed on emotional connection. At the end of the day decision making is emotional."
Why is Meretz failing to connect to voters?
"I don't know. If I knew I would solve the problem. I can't explain it in words. We just don't have it. We need to make people feel that we are there for them, that we care. Unfortunately it's not happening. […] I am not sure I would do a better job than Zehava Galon [Meretz chair]. But I am quite certain that if the ideas are good, the problem must be the people."
What do you think about the idea of uniting the Labor party with Meretz?
"You'd be surprised, but I'd go much further than that. The current situation, and I'm not exaggerating, it's like an eclipse, we need to form a very wide coalition to save the country. Everyone from Yesh Atid to the Joint List should join in order to get rid of the "BibiBennet" phenomenon [Benjamin Netanyahu and Naftali Bennet of the Jewish Home]. Even some coalition forces could join as well as the ultra-orthodox parties. I went so far as pursue this it, though so far the plan fell through because of peoples' egos."
"I'm fed up the current rules of the political game. Nowadays, every loser who enters politics hangs up curtains in his Mazda [official government car] and roams around as if there is a broomstick up his arse. Their ego is huge, they are greedy and politics amplifies those bad qualities. Sometimes this brings out anger and frustration in me, I could hit them even. If I didn't calm myself down by making jam, I'd have to be under psychiatric care day and night."
The Conflict
Maybe the Left's problem is that your two-state solution needs revisions? Maybe you should consider one-state solution?
"Do you think a one state solution is plausible before the Palestinian national liberation happens? I don't think so. I think it's a necessary stage just like the founding of Israel was necessary. National liberation is a basic condition."
Will there be a stage in which you will realize the two-state solution is unattainable?
"I admit that the implementation of that idea is becoming harder, but it's still possible. Israel has a partner. Look at the disengagement from Gaza. Why couldn't we identify a partner, reach an agreement, and sell the [settlements] houses, maybe for half the price, instead of demolishing them? What interest brought us to disengage without an agreement?"
Do you think an agreement would have prevented the missiles from Gaza?
"I don't know, but that's how you build trust. Mahmoud Abbas was a partner all along and he is still a partner."
A political Animal
Gilon was first elected to Knesset in 1999. In the following election in 2003 he was seventh on the Meretz list, but the party won only six seats.  Gilon found himself unemployed and opened a restaurant in his home city of Ashdod.  Three and a half years later he sold it ("I was enslaved to the restaurant). Simultaneously he presented both on the radio and TV. There he met Uri Urbach [an Israeli Religious Zionist writer, journalist and politician who served as Jewish Home MK and Minister of Pensioner Affairs. Urbach died in 2015].
"He was my soul mate" Gilon says. "As a member of the rightwing Jewish Home party, his politics was utterly different from mine. And yet he was 100% similar to me in the way we viewed people. We understood each other. We both cried for the same reasons. He was an exemplary man and I miss him". After six years out of the Knesset Gilon was re-elected to Knesset in 2009, 2013, and 2015.
Gilon deeply appreciates President Reuven Rivlin. "Voting for president Rivlin was the best vote I cast in my political life. He is just the right man for the job. Once someone came to me and said 'do you know he supports a greater Israel?' I said, 'at least he has opinions'. Rivlin hasn't disappointed me once. After he was thrown out of chairing the Knesset, he sat on the back benches and never missed a day of dull work. When he was elected he movingly said "long live the state of Israel." I was moved with him. Rivlin, like me, cries easily. I love him very much."
Are you frustrated that you can't influence from within the government?
"Of course, it's terribly frustrating. It's very difficult to always be on the defensive and never pass bills."
Which minister would you have liked to be if you were part of the government?
"I haven't thought about it. Everyone says I would have been Welfare Minister, but I think I'd like to be Transportation Minister. The only thing I'm certain of is that I wouldn't go to do something I have no idea about. I am a very task orientated person and deep inside I feel like a pizza delivery boy who needs to get the pizza to its destination, regardless of what I do."
Despite the various roles Gilon held in the Knesset, and the socially orientated bills he promoted and advanced, he misses working for the Ashdod municipality most. In 1993, he ran for the Ashdod city council and became vice Mayor. He served for six years and furthered important projects in the city.
"This was my most fruitful time politically, ever. I could visually see the impact of my work. There are many education and cultural institutions in Ashdod that I know exist because of me. In 2008 I wanted to run for Mayor, but I had no chance. The city is 22 percent ultraorthodox, a third post-soviet immigrants who vote for Avigdor Liberman, so it would have been impossible for me to win. But if I thought I could become mayor, I would leave the Knesset right now. Ashdod is my soul. I see the views of my childhood as I get older. Is there anything more wonderful than that?
Do you meet settlers?
"I meet everyone. I don't boycott anyone. I don't have an argument with the settlers, I have an argument with the government's policy. I am a person who finds it hard to move, so I totally understands that people don't want to leave their homes."
Do you mean the Amona settlers? [Amona is an illegal outpost built on private Palestinian land, which Israel's high court ordered to demolish]
"Yes, Amona too. I don't have a quarrel with them. If it were up to me, during the disengagement from Gaza, I would have lifted the residents of Gush Katif while they were asleep to their new homes without shaking their lives. They should have been treated like people. The government sent them to Gaza and it was responsible. Everyone has potential to be my allies. As far as I am concerned the ultraorthodox and the Arabs have the most potential because they are victims of dark deals done on their back."
"My generation is a crappy generation. We disappointed both our parents and our children. We didn't build our parents' dreams and we allowed them to fall without a safety net. And we didn't prepare the state for our children. When I meet young people I don't tell them to make do with scarcity. I tell them to make do with what they need to be happy. We live in a greedy world in which few eat a lot and many eat little. It's a world with many Trumps and few Leonard Cohen and it doesn't have to be that way."
Will there be change after this difficult time?
"I hope so. I can feel the alternative forces coming. I visit many pre-military academies and communes and meet young people in their 20s who dream of finding a spiritual-ideological catharsis, not only on the West Bank or in Goa [India, the escape for many young Israelis]. They want to build a society based on life and not on eternal war."
Meanwhile, Netanyahu makes them vote for him. How does he do it?
"Fear. Petrifying fear."
Only through scare tactics?
"His success is a combination of his scare tactics and the left's inability to respond properly."
Could this change if there was a appropriate leftist leader?
"Possibly, But I don't think this is a job for one person. It's the work of many."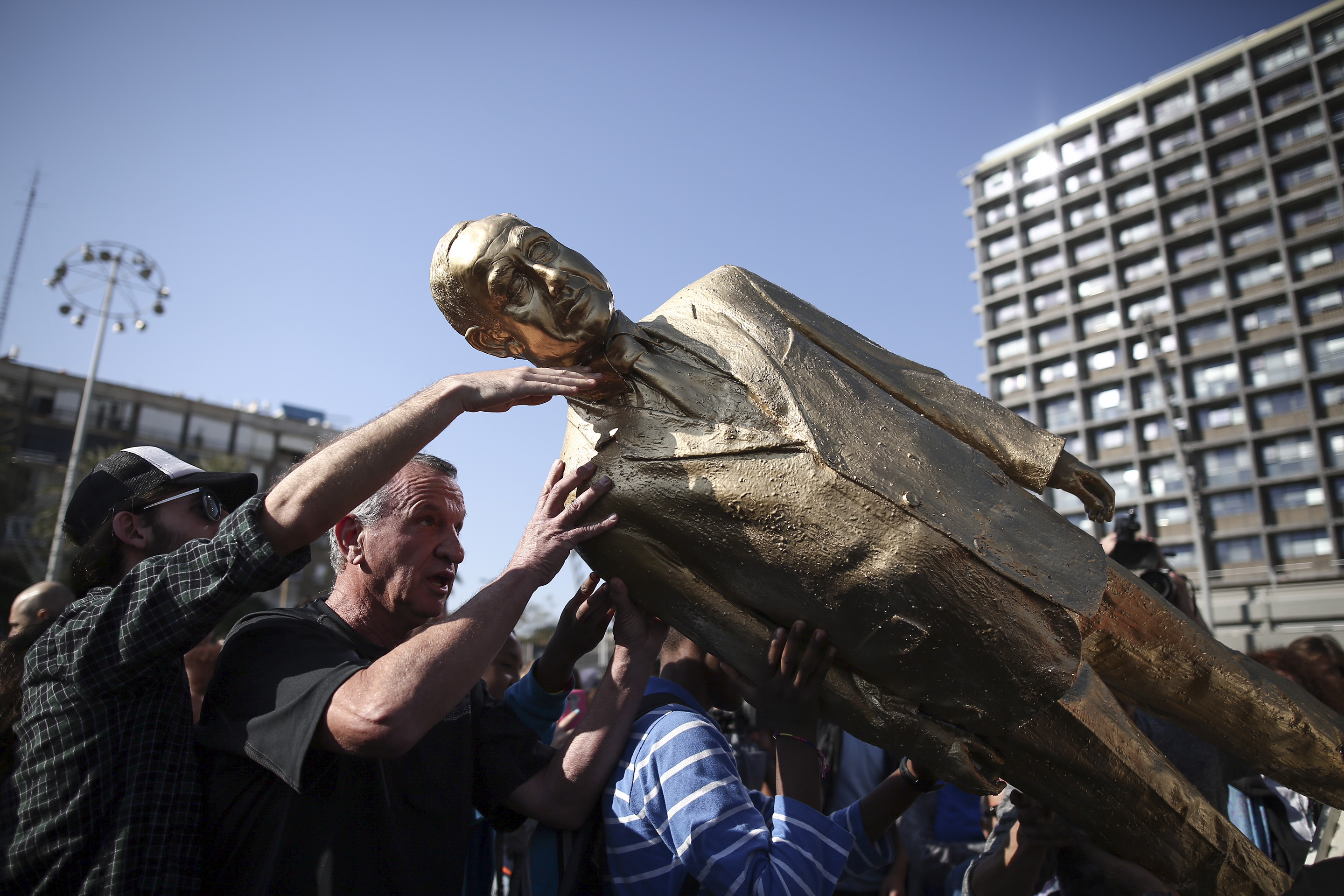 What do you think about the recent Netanyahu artistic installations?
"I don't understand much about art. But I really liked the gold plated statue of Netanyahu in Rabin Square. It is important to have one in Rabin Square. North of Korea has such  sculptures. I'm sure Erdogan has one in Turkey. So why not here?"
Do you see an erosion in freedom of speech in Israel?
I don't know, but I'm sure that we haven't had threats like "if you don't do x, I won't fund you." Is this Soviet Russia? It's easy for me to say this without appearing condescending because I am just a punk from Ashdod. "I am not a condescending man who has seen all the Chekhov plays and knows literature inside out. I understand that Miri Regev [Culture Minister] has political needs. I understand it works for her and for the media. But I don't think she understands where she's leading. This is the fourth Knesset I serve in and it has never been this humiliating. There is an overflow of people who are simultaneously mean, stupid and hard working. This is a lethal combination. When stupidity is combined with viciousness, it's dangerous.
The original article was written by Nir Yahav and published in Walla Magazine on December 22, 2016.
Translations: Dana Mills
Editing: Peter Eisenstadt