MachsomWatch: Working to Expose and End the Occupation
By Ina Friedman
MachsomWatch ("Checkpoint Watch"): Women Against the Occupation and for Human Rights, is a grassroots organization of volunteers founded in 2001, soon after the start of the Second Intifada, by three Israeli women observing a military checkpoint on the outskirts of Jerusalem. They did so in response to reports of human rights violations at checkpoints throughout the occupied West Bank. By the following year, additional teams of women were monitoring checkpoints, and the organization grew steadily thereafter.
MachsomWatch focuses primarily on the human right to freedom of movement, as violation of this principle directly impacts upon other basic human rights, such as access to education, health care, and places of worship; the ability to earn a living; and the maintenance of family life. The checkpoints are a major source of distress and daily humiliation for the Palestinians. They are unequivocal evidence of the dominance of a foreign power over the life and movement of Palestinians in their own space. Our very presence there as monitors expresses our sense of empathy with the Palestinian plight and shows that not all Israelis are indifferent to it.
Our checkpoint shifts take place primarily during the early morning hours, when tens of thousands of Palestinian workers and others on their way to schools, medical facilities, diplomatic missions, and other destinations, wish to enter Israel. We both observe the functioning of the checkpoint and aid Palestinians in distress by facilitating communication with the army and police personnel on site. MachsomWatch teams also maintain shifts at the checkpoints known as "agricultural gates" built into the Separation Barrier. Palestinian farmers have agricultural lands on the far side of the barrier (85 percent of which has been constructed within the occupied West Bank itself), but only when the agricultural gates are opened – and this is at the sole discretion of Israel's military government – are the Palestinian farmers afforded access to them. At the end of each shift, our volunteers report on the issues encountered at the checkpoint. These reports (over 30,000, to date) are then published on our website, in both Hebrew and English.
We believe that this stream of reports has been key to raising awareness and criticism of the occupation, both in Israel and abroad. This criticism, in turn, has led to various changes in the checkpoint system. For example, since 2009, some checkpoints deep within the West Bank, which had prevented movement between Palestinian villages and their main towns, have been disbanded. More recently, some of the larger checkpoints blocking entry to Israel have been automated, eliminating the long lines and waiting time to get through the cages and turnstiles typical of the old checkpoints. In addition, by eliminating the need for direct contact between Palestinians and Israeli security personnel, this upgrade has greatly reduced the tension and frustration experienced at the checkpoints.
Over the years, MachsomWatch volunteers have become well versed in the intricate bureaucracy of the occupation, which itself is an apparatus employed to deprive and control the occupied population. And as our interaction with Palestinians at the checkpoints heightened our understanding of the broader system impairing freedom of movement and producing other human rights violations, we expanded our activities accordingly.
The Permit Regime and Blacklisting
No Palestinian living under occupation can enter Israel without a permit issued by Israel's Civil Administration, which is an arm of the military government. Obtaining an entry permit is contingent upon passing a security check by the General Security Services (Shabak). When a Palestinian is denied a permit and becomes "blacklisted," no reason is given; an existing permit can likewise be revoked without explanation. Working with a lawyer, a team of MachsomWatch volunteers aids blacklisted West Bank Palestinians by appealing the reason for each entry ban and, should it prove arbitrary, having it lifted. We have succeeded in reversing the ban on more than a third of the Palestinians who have approached us for help. An in-depth report on the operations of this team can be found at our website.
On an individual level, we have dedicated women who confront the permit regime on a daily basis and do their utmost for Palestinians who are blocked on their way to medical care, their farm lands and other important appointments.
Military Courts: Israel distinguishes between the laws and judicial system applied to its citizens living or travelling in the West Bank and those pertaining to Palestinians under occupation. The latter, effected through military courts, allows such disturbing practices as incarceration without trial (administrative detention) and withholding evidence against the accused from the knowledge of the defense. MachsomWatch has teams monitoring the trials of West Bank Palestinians and spotlighting the travesties of justice ingrained in the system. An in-depth report on the observations of this team can be found on our website.
Daily Life Under Occupation: More recently, we have also been helping Palestinians to cope with the adversities of life under occupation in West Bank towns and villages. One of our teams has studied the encroachment of Israeli settlements and settlers on Palestinian holy places. Others are in regular contact with and provide material aid to villagers, farmers, and herders in the South Hebron Hills and the Jordan Valley. These Palestinians are particularly disadvantaged and systematically deprived of such basic needs as running water and electricity, educational facilities, and decent dwellings. They also suffer frequent harassment by Israeli settlers and the military. See our teams' reports on our website.
Reality Tours: For over a decade, we have been conducting tours in the West Bank, in Hebrew and in English. Our target audience is first and foremost our Israeli compatriots, who too often remain blissfully unaware of what life is like on the other side of the Separation Barrier, though the tours also draw foreign diplomats, journalists, and tourists. When COVID-19 forced us to suspend these tours, we initiated Zoom webinars to continue conveying a picture of daily life under occupation.
Beach Days for Palestinian Children: Until the advent of COVID-19, MachsomWatch volunteers also ran a popular project that brought groups of Palestinian children and their mothers to experience the Mediterranean Sea for the first time. We would acquire the permits for them to enter Israel, arrange the transportation, provide lunch and afternoon activities, and generally take great pleasure in their enjoyment. We hope to reactivate this project once conditions allow.
Outreach: In addition to holding lectures and tours for pre-army youngsters, we take visitors (including journalists and diplomats) along on our checkpoint shifts. We have made three full-length and three short documentary films on the occupation; publish a quarterly newsletter; and maintain a presence on Facebook (www.facebook.com/machsomwatch, in Hebrew) and Twitter (@machsomwatch, in English). Our website enables visitors to learn about and contact our organization, sign up for tours, read any of our tens of thousands of reports, and access other resources.
What We Have Learned: Our two decades of activity has enabled us to observe military rule in depth, express our opposition in pragmatic terms, and vividly illustrate for our compatriots what "the occupation" means in quotidian terms. Unfortunately, what we have learned is that the longer the occupation endures, the more entrenched, capricious, and vicious a system it becomes. Feeling protected by the IDF, for example, belligerent settlers residing illegally in the West Bank ride roughshod over their Palestinian neighbors, attacking them physically and destroying their orchards and crops. Inevitably, perhaps, the occupation's ethos of humiliation, intimidation, and suffocating control has also penetrated Israeli society to the point of menacing the structure and fabric of our democracy.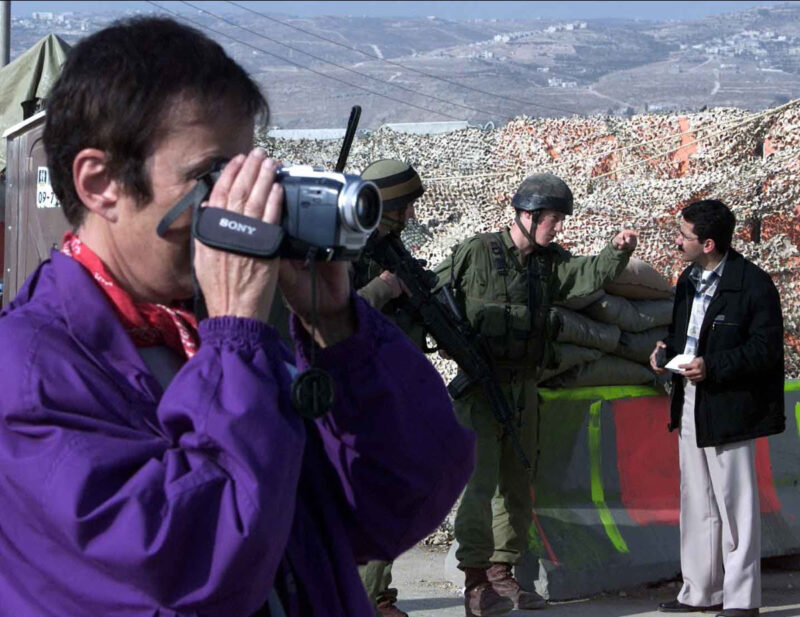 We are now living alongside the third generation of Palestinians under occupation, who have known no other kind of life. While older Palestinians were once able to develop ties with Israelis and relate to them on a number of levels, Palestinian youngsters see Israelis solely as hostile soldiers and settlers and thus the objects of searing hatred. On the Israeli side, the young people tasked with maintaining the occupation have now come to regard it much as they do the Mediterranean climate: a fact of the life into which they were born and with which they must live. In concert with our sister human rights and peace organizations, the women of MachsomWatch are determined to keep working to bring this self-defeating reality of occupation to an end.

---
Ina Friedman is a MachsomWatch monitor at the Qalandia Checkpoint at the northern tip of East Jerusalem and a member of the Reality Tours and Outreach teams.
---
To learn more about MachsomWatch, please visit their English website and YouTube channel, and find them on Twitter, Facebook, and Instagram.
Click here to watch extended versions of the clips shown in the video below.