On the morning of Feb. 14 (snow-delayed from the previous evening), the YIVO Institute's Manhattan headquarters hosted a remarkable program entitled, "Unresolved History: Jews and Lithuanians After the Holocaust," about conflicting narratives among ethnic Lithuanians and Jews on what transpired in World War II. Warm and forthright introductory remarks were delivered by the Lithuanian Ambassador to the United States, Žygimantas Pavilionis, and a former U.S. Ambassador to Lithuania, Anne E. Derse. Then there was an engrossing panel discussion fluidly moderated by Mikhail Iossel of Concordia University (Montreal), including: scholar and European Union Parliament Member, Dr. Leonidas Donskis; Faina Kukliansky, an attorney and the current chair of Lithuania's organized Jewish community; and Saulius Sužiedėlis, an emeritus professor of history at Millersville University (in Pennsylvania).
Panelists from left: Kukliansky, Donskis, Sužiedėlis &

Iossel
No major Jewish community suffered worse losses during the Holocaust than that of Lithuania; 95% of Litvaks (as both Jewish and non-Jewish speakers called Lithuanian Jews) were murdered during those years, with killings (in some accounts) beginning even before the invading Nazis took over from the retreating Soviets. Two thirds of Litvaks were murdered during "the bloodiest period in Lithuanian history," late Aug.-Oct. 1941, as related by Prof. Sužiedėlis.
There was a 45-year memory hole, a deliberate policy by Soviet authorities to suppress discussion of the Holocaust. In the not quite 25-year post-Soviet period, making up for this lapse of historical memory is complicated by the fact that most Lithuanians (and other Balts) suffered ten-fold from the Soviets as compared with the Nazis.

Center for Jewish History, NYC

site of

YIVO

program
Prof. Sužiedėlis elaborated by describing the worst instance of Nazi oppression against non-Jewish Lithuanians: In 1943, because Lithuanians (unlike Latvians and Estonians) refused to join the SS in ethnic combat units, some were sent to concentration camps, where a number died but most survived. This hardly compared with their suffering under the Soviets, exemplified in the professor's extended family losing four relatives (including a four-month old infant) murdered on May 8, 1945, the day of Germany's surrender.

Prof. Iossel mentioned the "Forest Brethren" as Lithuanian partisans were known, including members of the Lithuanian Activist Front, who were heroes to their countrymen for fighting the Soviets after World War II, but also murdered Jews during the war. Dr. Donskis spoke of families in which one brother was a "Righteous Gentile" hiding Jews and another a "White Ribbon" murderer of Jews.

Right-wing Lithuanian nationalists assert the notion of the "Double Genocide," equating Stalin's crimes against the Lithuanians with the Nazi genocide against Lithuania's Jews. Prof. Sužiedėlis made the point of needing to explain the difference between genocide and mass murder, and indicated that this argument is the most difficult to make with older Lithuanians, especially those over 60. But the speakers all acknowledge growing liberal trends in the Lithuanian government and among younger Lithuanians to own up to the guilt of their countrymen in participating in the Shoah.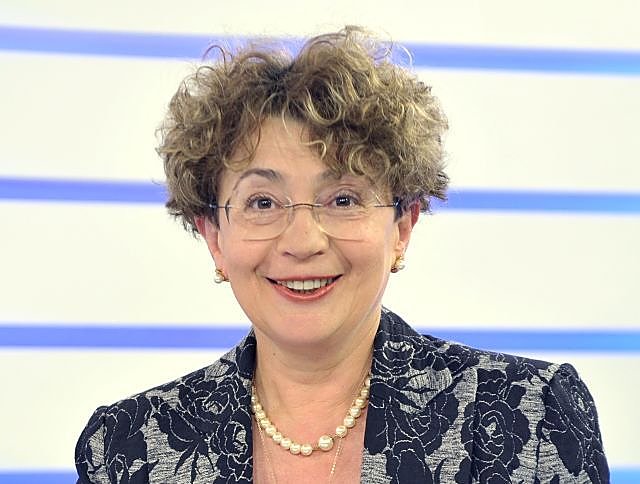 Faina Kukliansky

Ms. Kukliansky indicated that many young Lithuanians help with preservation work in the country's 140 Jewish cemeteries, the 200 killing sites, and with its cultural assets; she also claimed that 400 Israelis now study at the university in Kaunas (formerly Kovno). Dr. Donskis noted the contemporary irony of ethnic Lithuanians learning Yiddish and even teaching Yiddish to Jews.

Sadly, this contrasts with the ongoing battle over historical narratives between Israeli Jews and Palestinian Arabs about the 1948 war and the Nakba ("the catastrophe," as Palestinian Arabs refer to and experienced Israel's independence). The reason for this contrast is not hard to discern: The Lithuanian controversy is basically about history, whereas the debate involving Israel and Palestinians remains part of an unresolved conflict.
[Click here for Part 2]