Is the Biden Administration Inching Toward a Rights-Based Discourse on Israel and Palestine?
By Ron Skolnik
"Secretary of State Antony J. Blinken … emphasized the Administration's belief that Israelis and Palestinians should enjoy equal measures of freedom, security, prosperity, and democracy."
This past April 2, U.S. Secretary of State Anthony Blinken delivered a subversive take on the Israel-Palestine conflict. In a readout of his conversation with then-Israeli Foreign Minister Gabi Ashkenazi, Blinken omitted any mention of a permanent-status solution for Israel and Palestine, and instead focused his summary on a principle much more fundamental—equality. "The Secretary emphasized the Administration's belief," the readout stated, "that Israelis and Palestinians should enjoy equal measures of freedom, security, prosperity, and democracy."
Coming ten days after Israel's fourth election, most eyes at the time were trained on the country's high-stakes coalition wrangling, and the remarks were little noticed. But they were no inadvertent "slip of the pen." Some six weeks later, on May 11, as the latest Israel-Gaza war was beginning to escalate, White House Press Secretary, Jen Psaki, delivered an official statement, which, while this time referencing support for a two-state solution, again underscored the new administration's position that "Palestinians and Israelis deserve equal measures of freedom, security, dignity, and prosperity." Blinken again repeated this "equal measures" language on May 25.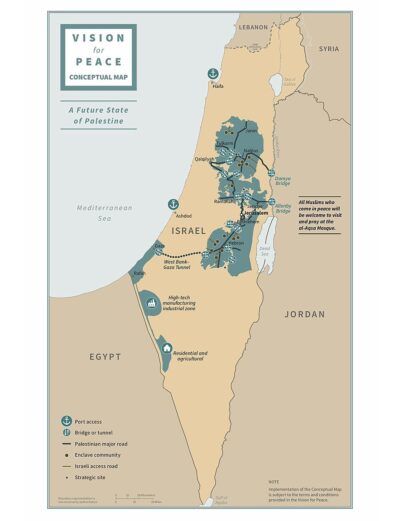 The Biden administration has shown no signs, of course, of radically revamping its approach to the overall endgame for Israel-Palestine. In a May 23 interview with George Stephanopoulos on ABC's "This Week," Blinken said that "President Biden has been very clear that he remains committed to a two-state solution." But, though this "song" was the same, Stephanopoulos, a former White House Communications Director, was picking up on a new "arrangement": "You stress that word 'equal' right there'," he observed to Blinken. "That seems to be a new emphasis for this administration. We haven't heard that a lot in the past, equal rights for Palestinians and Israelis. … [I]s this new emphasis … really the start of a longer-term shift?" Stephanopoulos might have been on to something.
When it comes to Israel and Palestine, American administrations have tended to be results-oriented, not values-oriented. George W. Bush's vision, to take one example, wasn't a set of human aspirations, but a geopolitical endpoint: "two states, living side by side in peace and security." To get there, Bush embraced a "performance-based and goal-driven roadmap," that was as spiritually uplifting as an efficiency expert's report, with its "clear phases, timelines, target dates, and benchmarks," and which eschewed any mention of "dignity," "freedom," or "equality."
While U.S. administrations frequently invoke "democracy" and "equal rights" in their effort to seize the moral high ground on the international stage, they have tended (with occasional exceptions, of course) to avoid this language when it comes to Israel-Palestine—possibly because of the uncomfortable dissonance created when juxtaposing those noble values with Israel's undemocratic and unequal decades-long military occupation. The Biden administration's new language, therefore, might, just might, represent a first whiff of possible change in the air.
A similar metamorphosis seemed to be in evidence recently in a Partners for Progressive Israel webinar with Knesset Member Mossi Raz of Meretz. Raz, a longtime anti-occupation activist and former director of Israel's Peace Now movement, was asked whether there is still hope for the two-state solution. His reply refocused the issue, placing values at the center of the discussion, rather than this or that political structure:
One state or two states are not part of my ideology. My ideology is freedom… My ideology is securing human rights. And if we have to do that in one state, two states, or seven states, it's not that important. One state or two states is [also] not part of my Zionism. My Zionism [is] the right of the Jewish people to implement [our] national rights, and that might be in one state, in two states, in a binational state.
Raz went on to argue that the two-state model is still, notwithstanding the bumps and bruises it has endured, the more realistic and feasible approach for two peoples who have divergent narratives, competing national interests, a history of violence and hatred, and a residue of fear and ill will. Blinken, similarly, believes that a partition into two states continues to be the best path towards bringing "equal measures" into practice.
Two states, then, ultimately remains the paradigm for Blinken and Raz (and most everyone else). But the framing of two states as an instrument for achieving more essential aims, rather than an ideal to be sanctified, is a significant development that needs to be embraced more widely—because the placement of higher principles at the forefront of our discourse is key to preventing "two states" from becoming a vehicle for continued oppression.
For those who have repressed their memories of 2020, we saw just such an exploitation of two-states language only last year, in the Orwellian-named "Peace to Prosperity: A Vision to Improve the Lives of the Palestinian and Israeli People"—aka the "Trump Plan." With significant input from ardent supporters of Israel's settler right, such as then-U.S. Ambassador to Israel, David Friedman, the plan coopted and corrupted phrases such as "Palestinian state" in order to present a "two-state solution" in name only. The so-called "deal of the century" would have left the Palestinians scattered in a series of disjointed West Bank cantons, surrounded and dominated by Israel, and enjoying nothing close to an "equal measure" of prosperity, let alone freedom or dignity.
Blinken's new language, therefore, is a sort of "diplomatic subtweet"—a crystal-clear, albeit indirect and implicit, rejection of the machinations of Donald Trump, Jared Kushner, and Mr. Friedman. Similarly, it also represents a sharp rebuke of the quarter-century-long effort by Netanyahu (still prime minister when Blinken issued his formulation) and others on the Israeli right to water down the meaning of Palestinian sovereignty to such an extent that it became, in their schemes, little more than a disempowered, disenfranchised local autonomy. (Perversely, even the Israeli far far-right has coopted the term "two-state solution" in support of the claim that Israel should unilaterally annex all the land between the Mediterranean Sea and Jordan River, since "Jordan is Palestine.")
Whatever modus vivendi Israelis and Palestinians eventually agree upon, be that two states, one state, confederation, or something else entirely—and, in the meantime, the two-state option is still regarded by both peoples as the least objectionable of all—to make it work stably over the long term, the arrangement will have to deliver benefit to both sides in "equal measure" in terms of the basic human right to freedom, security, dignity, prosperity, and more.
While some might look cynically at Blinken's new language and regard it as lip service, we mustn't rule out the optimistic possibility that, nearly three decades after Rabin and Arafat first shook hands on the White House Lawn, we are actually seeing the start of a significant perceptual shift. Rather than dismiss Blinken's new terms of reference in limine, progressives instead should applaud, repeat, and help mainstream and ingrain them—and loudly hold the Biden administration to them on every occasion that it fails to adhere to its own lofty rhetoric.
—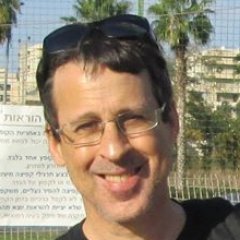 Ron Skolnik is an American-Israeli political columnist and public speaker, whose articles have appeared in a variety of publications, including Haaretz, Al-Monitor, Tikkun, the Forward, Jewish Currents, & the Palestine-Israel Journal.