Ir Amim – Preserving Jerusalem as the Present Home and Future Capital of Two Peoples
By Rachel Schwartz and Amy Cohen
WHO WE ARE
Founded in 2004, Ir Amim ("city of nations" or "city of peoples") is the longest-standing Israeli NGO which focuses exclusively on Jerusalem within the context of the Israeli-Palestinian conflict.
Our mission is twofold: To make Jerusalem a more equitable and sustainable city for the Israelis and Palestinians for whom it is home and to help secure a negotiated resolution for the city. Ir Amim seeks a sustainable political future in which Jerusalem is the shared capital of two sovereign states, Israel and Palestine – achievable only through a negotiated Israeli-Palestinian peace process.
A city holy to three religions, Jerusalem is the shared home – and we believe, future capital – of Israelis and Palestinians alike. As such, Ir Amim envisions a Jerusalem that ensures the dignity and welfare of all its residents and safeguards their holy places and historical and cultural heritages.
WHAT WE DO AT IR AMIM
In pursuit of a more just and equal Jerusalem, we focus on a variety of flashpoints that both undermine this shared reality as well as erode conditions for an agreed resolution regarding the city's future. These include, but are not limited to:
Severe discrimination in building and planning, leading to staggering numbers of demolitions of Palestinian homes in East Jerusalem and contributing to overall Palestinian displacement from the city.
State-backed, settler-initiated evictions of Palestinians in favor of ideological Israeli settler organizations that establish strongholds in the heart of Palestinian neighborhoods.
Exploitation of tourism, national parks, and archeology as a mechanism to expand and bolster Israeli settlement.
Socio-economic disparities between East and West Jerusalem in the form of unequal distribution of municipal services and budget allocations, which lead to failing educational institutions, inadequate infrastructure, and systemic neglect of Palestinian neighborhoods.
Continued settlement expansion over the Green Line in East Jerusalem, jeopardizing the viability of a two-state solution based on two capitals in the city.
These challenges to equality and justice not only contribute to the fracturing and erosion of the Palestinian space in Jerusalem, but enable the further consolidation of Israeli control over the entire city, foiling prospects for any forthcoming peace agreement.
Ir Amim tackles these issues through a variety of tools: political, legal, and public advocacy; policy work and research; public education and outreach; as well as sustained monitoring, reporting, and expert analysis of the latest political trends in Jerusalem.
Our unwavering commitment to comprehensive research and to the accuracy of our analysis of developments on the ground has gained us a solid reputation among policymakers, the media, and the general public, both locally and internationally.
This past year, some 7,000 people participated in our study tours of East Jerusalem, exposing them to the political reality on the ground and raising awareness as to the pressing issues facing the city. Since Ir Amim's inception, an estimated 40,000 participants, primarily Israelis, have taken part in these tours.
As part of our robust public education and outreach efforts, a large portion of our work is dedicated to organizing within Israeli and Palestinian civil society, as well as mobilizing the Israeli public and reorienting public discourse on Jerusalem through educational programs, tours, public events, and briefings.
Below are a few highlights from our work this past year with our Israeli and Palestinian counterparts towards preserving Jerusalem as the present home and future capital of two peoples.
IR AMIM IN ACTION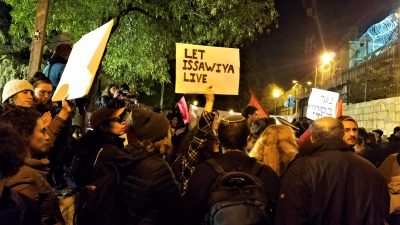 Standing Together Against Police Brutality in East Jerusalem
Issawiya is an East Jerusalem neighborhood, adjacent to the Mount Scopus Hebrew University campus and home to approximately 20,000 Palestinian residents. Since June 2019, this neighborhood has been the target of an aggressive police campaign marked by daily hostile raids, harassment, and sweeping arbitrary arrests. Over the past seven months, over 600 residents – including hundreds of children – have been detained, with less than 30, according to estimates, actually being charged with any wrongdoing.
While the situation in Issawiya remains dire, it has presented a unique opportunity for partnership with local community residents and activists. Ir Amim, along with other Israeli partners, has been on the ground working hand-in-hand with Issawiya residents to bring an end to the ongoing intrusive police campaign through appeals to the Israeli authorities, petitions and demonstrations, documentation of cases of police brutality, and public advocacy through media coverage and informative events.
We made headway just prior to the start of the current school year when the local parents' committee announced a school strike due to the unsafe environment created by the constant armed police presence on neighborhood streets. As a result of Ir Amim's advocacy, 40 school principals from both West and East Jerusalem sent a letter to Jerusalem Mayor Moshe Leon, urging him to intervene, followed by an appeal by the Jerusalem municipal education department. It was only after these interventions that the Mayor finally agreed to meet with residents, ultimately leading to an understanding with the police to limit their presence, particularly during the children's commutes to and from school. Thanks to this agreement, the neighborhood schools were able to open for the new school year.
Unfortunately, the police did not uphold their end of the bargain and resumed operations in the neighborhood. But Ir Amim will remain active in Issawiya alongside local residents until the situation is completely de-escalated and calm is restored to the neighborhood.
Safeguarding the Multi-Religious Character of Jerusalem's Old City
Each year, to mark Jerusalem Day – a day commemorating Israel's "reunification" of the city in 1967 – a coalition of right-wing organizations organizes the Jerusalem Day Flag Parade.
The parade attracts thousands of Israeli nationalist participants who march through Jerusalem to the Western Wall via the Old City's Muslim Quarter, provocatively brandishing Israeli flags. Some participants engage in anti-Palestinian incitement and violence. Israeli police cordon off the Muslim Quarter for hours as the parade passes through, forcing most shops to close and prompting the majority of residents to shutter themselves inside their homes until the march ends.
Last year, Jerusalem Day coincided with the final days of Ramadan – a period of time for Muslims similar in its holiness to the 10 days between Rosh Hashanah and Yom Kippur, with hundreds of thousands of worshippers attending prayers at the Al-Aqsa Mosque.
Understanding the senstivity of this timing, Ir Amim launched a wide-scale outreach campaign to exert pressure on the Israeli authorities by enlisting the Israeli public in a call to reroute the parade and keep it out of the Muslim Quarter.
Major public figures, religious leaders, and City Council members joined Ir Amim in demanding that the parade's route bypass the Muslim Quarter out of respect for the city's Muslim residents and their holy days.
As part of the campaign, Ir Amim was active in both traditional media and social media, and this helped increase public opposition to the parade among Jerusalem residents and religious Jewish communities in Israel. Over 1,000 people signed a public petition addressed to Jerusalem's Mayor and nearly 100 community and religious leaders signed a joint letter to parade organizers, calling on them to alter the march's route.
In addition, businesses throughout West Jerusalem hung signs in solidarity with shopkeepers in the Muslim Quarter, who were unable to open their shops due to the parade and whose businesses are occasionally vandalized by parade participants.
Along with these gains, Ir Amim's sustained advocacy over the years has led to heightened criticism of the parade and the growth of alternative Jerusalem Day events, which highlight the binational and multicultural character of the city and the shared life within.
While we are making inroads in putting this issue front and center and activating voices to join our efforts, there is still more work to be done in achieving our ultimate goal – having the parade permanently rerouted away from the Muslim Quarter, out of respect for its residents.
Engaging the Ultra-Orthodox Community in Jerusalem
Building on our work with West Jerusalem civil society groups, this past year Ir Amim expanded its outreach and education to focus on mobilizing young ultra-orthodox (Haredi) leaders in Jerusalem to more effectively engage their own community in discussions concerning the political situation in the city.
Although representing over one-third of the city's Jewish population and possessing great social and political influence, Jerusalem's Haredi population has been largely unexposed to a more nuanced and informed discourse on the complexities of the conflict in Jerusalem and has been relatively absent from peacebuilding efforts there.
Through a specially designed program of workshops, seminars, study tours, and meetings with Palestinians from East Jerusalem, we have begun building a cohort of Haredi social activists – both women and men – and equipping them with the knowledge, tools, and connections they need to promote a peace-oriented discourse within their own community.
As a result of our work, we have begun to see the Haredi media touch upon these issues, and are witnessing the growth of networking among likeminded Haredi community activists who can work together on the interests shared by both the Haredi and Palestinian communities (e.g., education, planning and building, housing rights, economic development).
Just this past year, over 100 individuals from the ultra-orthodox community in Jerusalem attended our programs.
There are many challenges ahead as we pursue our vision of a more just and equal Jerusalem. These are just a few examples of the important work Ir Amim is doing as we continue to aspire towards an agreed political future for our shared city.
To learn more about our work, please visit our website, Facebook page (@IrAmimEng), and  Twitter account (@IrAmimAlerts).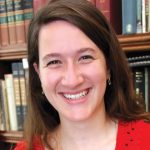 Rachel Schwartz is the Social Media
Coordinator – English for Ir Amim.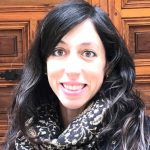 Amy Cohen is the Director of
International Relations & Advocacy
for Ir Amim.