What?! See two sides to the issue? No, we can't do that. What's there to say? –Lilly
Islamist group says it will do all it can to prevent inclusion of Holocaust in human rights curriculum at UN-run schools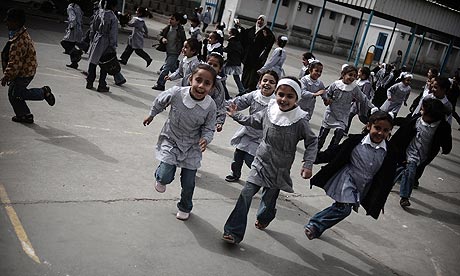 Photograph: Olivier Laban-Mattei/AFP/Getty Images
Hamas
has vowed to stop the
United Nations
teaching children in
Gaza
about the
Holocaust
, saying it will poison their minds.
The history of the Holocaust is planned to be included as part of a human rights curriculum in schools run by the UN Relief and Works Agency, which is responsible for the welfare of Palestinian refugees. More than 200,000 children attend UNRWA schools in Gaza.
… "We cannot agree to a programme that is intended to poison the minds of our children," said a statement from the [Hamas] ministry for refugee affairs.
"Holocaust studies in refugee camps is a contemptible plot and serves the Zionist entity with a goal of creating a reality and telling stories in order to justify acts of slaughter against the Palestinian people." It said UNRWA should focus on the human rights of Palestinian refugees.
… John Ging, the former director of UNRWA in Gaza who left to take up a new role this month, was a key proponent of including the Holocaust in the human rights curriculum, arguing that all the factors that led to the universal declaration at the end of the second world war must be covered.
Ging, a passionate advocate of the rights of Palestinian refugees and a vocal critic of Israel's policies towards Gaza, said Palestinian children needed to understand the great injustices of the 20th century, including the Holocaust, in order to fight legitimately for their own cause. …
Entire article is posted at Guardian UK site: "Hamas fights UN's 'poisonous' Holocaust lessons in Gazan schools"