Dr. Nathan Brown is a foremost expert on the rule of law in the Arab world. In this conversation, he discusses the internal governance issues in Gaza since Israel unilateral disengagement in 2005. How much longer can Hamas stay in power? Does the infamous rocket fire demonstrate a growing militancy among Hamas or a slipping of power?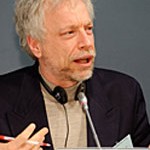 Dr. Brown received his B.A. in political science from the University of Chicago and his M.A. and Ph.D. in politics and Near Eastern Studies from Princeton University. He teaches courses on Middle Eastern politics, as well as more general courses on comparative politics and international relations. His dissertation received the Malcolm Kerr award from the Middle East Studies Association in 1987.
For 2013-2015, Dr. Brown is president of the Middle East Studies Association, the academic association for scholars studying the region. In 2013, he was named a Guggenheim Fellow; four years earlier, he was named a Carnegie scholar by the Carnegie Corporation of New York. For the 2009–2010 academic year, he was a fellow at the Woodrow Wilson International Center for Scholars.
In addition to his academic work,Brown serves on the Middle East and North Africa advisory committee for Human Rights Watch and the board of trustees at the American University in Cairo. He has previously served as an advisor for the committee drafting the Palestinian constitution, USAID, the United Nations Development Program, and several NGOs.