In 2003, Vicki Knafo, a single mother from Mitzpe Ramon, marched 109 miles to Jerusalem protesting the economic policies of then Finance Minister Benjamin Netanyahu's • On Tuesday in a briefing to reporters, Prime Minister Benjamin Netanyahu said about Knafo: "Go to work! If you have the ability to march, you can go to work"
Netanyahu's argument might sound reasonable, but as Israel's Prime Minister for the last 10 years and three years before that as finance minister, he has created a reality in which a job does not guarantee getting out of poverty.
Fact: in the 13 years since Finance Minister Benjamin Netanyahu cut welfare payments the proportion of single mothers who work has risen by about 15 percentage points – but the proportion of single-parent families below the poverty line has remained unchanged.
Another fact: In 2015, 81 percent of single mothers worked. But just as in 2002, a quarter of them were poor.
Single mothers are not the only ones to suffer – hundreds of thousands of workers and their families earn less than the poverty threshold. According to the latest National Insurance Institute poverty report – 277 thousand workers live below the poverty threshold.
So how come a job in Israel doesn't guarantee a life with dignity? Well, it's a combination of several things:
First, half of Israel employees earn less than 6700 NIS ($1783 a month, or $21,396 annually)
Second and equally important, Israel's real wages have been frozen for over 15 years. According to the Bank of Israel between 2000 and 2015 our wages increased by 0.6%
While wages remain low, we experienced a dramatic rise in the cost of living. Today Israel is second only to Japan in its cost of living. While Israelis earn on average the same as workers in Spain and Korea, our cost of living is 20% higher than in Spain and 30% higher than in Korea.
So Mr. Prime Minister, welcome to the socio-economic reality in Israel. Considering the fact that you are the responsible for it, it's puzzling that you are so disconnected from it.
[The original text – Project Sixty-One; Translation: Maya Haber]
The following graphs were taken from the OECD Economic Surveys ISRAEL, 2016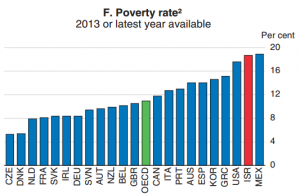 Israel is second only to Mexico in the highest poverty rates among the 35 member states in the Organisation for Economic Co-operation and Development (OECD).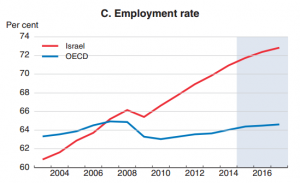 Poverty in Israel is not directly connected to unemployment. While employment rates grew significantly since 2004, poverty rates grew alongside them.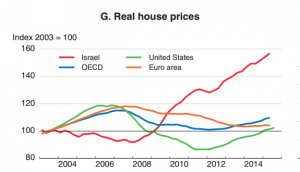 While wages stagnated, prices and specifically housing prices grew by 60%.