Abridged remarks by Prof. Leonard Grob at the Shiva for Sy Dresner
Sy Dresner had always appeared to me as a prophetic voice. Whether it was his work in civil rights or for a just Israel, Sy took with the upmost urgency the prophetic call "Tzedek, Tzedek Tirdof,"  "Justice, justice shalt you pursue."  Sy's pursuit of justice—whether in Alabama, Jerusalem, or New Jersey—was cut from one cloth. Sy Dresner was a giant in his lifelong quest to redeem Zionism, to take it back from today's sinners, the inhabitants of today's Nineveh—in his mind, the right wing in Israel and their knee-jerk United States supporters, those who have coopted Zionism for their own expansionist purposes.
I met Sy when we were among the founding members of Partners for Progressive Israel. He was at the heart of our organization for the past three decades, serving as its President for three years during the 1990s. At Board meetings Sy was his most ardent self, speaking out for a just peace with the Palestinians based on two viable sovereign states. Sy loved to explain how the cause of justice was rooted in Judaism. He was convinced that to be a true "light unto the nations," Israel had to break the cycle of Jews, so abused in their past, becoming, on gaining statehood, abusers themselves, occupiers of Palestinian land.
Sy would speak out for a just Israel and for peace anywhere and everywhere. When invited to the Obama White House in acknowledgement of his civil rights work, Sy spent his minute while shaking hands with the President saying, "Please do everything in your power to see to it that peace is made between the Israelis and the Palestinians…"
Sy was an early opponent of the settler movement, making his opposition known just months after the first settlement was established on the West Bank. On the ground in Palestine, Sy at one juncture stood up to militant settlers who were attempting to disrupt the olive harvest of Palestinian villagers.
Sy was perhaps at his best when we in Partners took our annual study tour to Israel and Palestine. On the soil of Israel and Palestine, Sy was even more passionate than usual about the need to resolve justly the Israeli-Palestinian conflict. He was our teacher, our guide, our chronicler, our provocateur, our cause of good trouble.
Sy was exceedingly loyal to Partners for Progressive Israel. When he no longer was able to drive, he would shlep to Board Meetings by bus from New Jersey and then taxi from Port Authority to our office. He would enter the Board Room, tired, but immediately energized by discussion of the issues at hand—hardly waiting a moment to jump into the conversation.
Sy will be missed terribly by us at Partners. Israel will have one less compelling voice calling it to account. A just peace between Israelis and Palestinians will have one less advocate. A Zionism infused with the spirit of Jeremiah will have one less champion.
Zecher tzadik livracha: May the memory of righteous Sy Dresner serve as a blessing to us all.
—–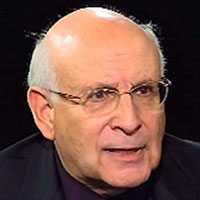 Prof. Leonard Grob is the Vice President of Partners for Progressive Israel.