Introducing the Women's Initiative at Partners for Progressive Israel
By Julie Arden Ficks
 The Women's Initiative focuses on sharing the voices of women from Palestine, Israel and the global Jewish diaspora. Vital insights and successes of women in these communities are often suppressed or lost in conversations and political discussions. The Women's Initiative provides a platform for them to be heard and supported. We value the perspectives of women from all social and political spheres: activists, academics, culture builders, politicians and grassroots workers.
By centering these voices, the Women's Initiative opens the door to new perceptions and innovative solutions. It strives to deconstruct assumptions, challenge outdated narratives, and seeks to infuse hope into unresolved, on-the-ground conditions.
The idea to create a women's group was engendered by feedback received from participants in our 2020 Virtual Israel Symposium who believe it is essential for women's rights and gender equality to be at the forefront of conversation.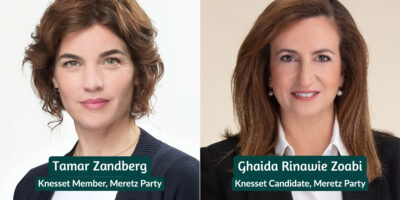 The Women's Initiative has held three successful events since its inception in early 2021. Tamar Zandberg & Ghaida Rinawie Zoabi: In Conversation focused on both candidates' visions for Israel's future, Zandberg being Jewish-Israeli and Zoabi being Palestinian-Arab Israeli. Judy Maltz, the Diplomatic correspondent at Haaretz, moderated the conversation, asking these two leaders in their communities what they would like to accomplish once in the Knesset and how do they realistically plan to make it happen.
During Be The Change: Celebrating Lilly Rivlin, we honored longtime Partners board member, artist, activist and filmmaker, Lilly Rivlin. Partners created and presented her with the Lilly Rivlin Tikkun Olam Award, starting a legacy where in the future, many other inspiring women will be recognized for their work in "repairing the world."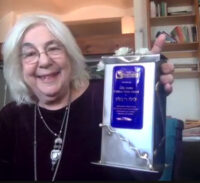 In our second webinar, The Israeli Election Results: The Impact on Women, panelists Galia Golan (Leading Activist at Combatants for Peace) and Samah Salaime (Director of Communication and Development at Wahat al Salam Neve Shalom) discussed more than the numbers, including issues of equality and justice. With moderator Suha Salman Mousa (Executive Director, Mossawa Center), they explored areas of commonality between progressive Jewish-Israeli and Palestinian-Israeli women, and the ways in which they can work and advocate together.
Women have rich experiences and achievements in all walks of life. The Women's Initiative will be shining a light on them. Stay tuned for future events!
___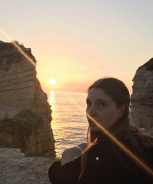 Julie Arden Ficks is the Program Coordinator at Partners for Progressive Israel. She holds an M.A. in English with specializations in Gender and Sexuality Studies and Contemporary American Literature.