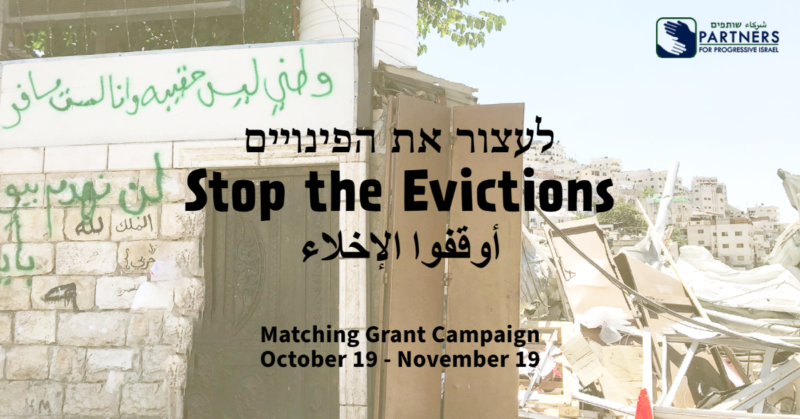 An Appeal
Dear friends and supporters of Partners for Progressive Israel,
Sheikh Jarrah, Silwan and the villages of the Southern Hebron Hills are flash points in the Israeli-Palestinian conflict. Recently you might have seen disturbing headlines and violent protests over possible Palestinian evictions, home demolitions, denial of access to farmland and to running water and settler vandalism.
The present pattern of forced evictions and demolitions, accompanied by plans to build residential structures for settlers in the heart of Palestinian neighborhoods are catastrophic on several levels – they are devastating for the individual Palestinian families forced from their homes and land, they are acts of aggression against the Palestinian people overall, and they are a callous effort to sabotage the possibility of peace itself.
Forced evictions and house demolitions are not only cruel and inhuman, but they also violate international law, including human rights and humanitarian laws.
The Supreme Court of Israel has deferred action in Sheik Jarrah, mainly because of International pressure. However, the cautious calm could explode at any moment, as the families are living in constant fear and anger. The risk of sliding into a third Intifada play out in Jerusalem cannot be discounted.
We say it is time to STOP THE EVICTIONS of Palestinians.
Beginning today Partners for Progressive Israel is launching a campaign to rally attention and build awareness for this cause; to pressure Israel to stop Palestinians' evictions and home demolitions. Over the next month we are hosting a number of programs, including webinars with Israelis and Palestinians. We are collaborating with progressive Israeli and Palestinian organizations and individuals who are fighting the evictions on the ground.
To support our STOP THE EVICTIONS campaign Partners has received a generous gift that will match dollar for dollar each contribution made by November 19th up to $15,000. 
We call on you to take advantage of this matching offer. In addition to your contribution being doubled, you will support Partners in keeping our voice loud and building a momentum against forced evictions and home demolitions of Palestinians living anywhere beyond the Green Line.
Please be part of our programming and CONTRIBUTE NOW to our STOP THE EVICTIONS MATCHING GRANT CAMPAIGN and make your voice heard in this important struggle. Israel's future as a democratic and liberal state hangs in the balance!
Thanks for your continuing support.

Karen Shapiro                                           Mark Gold
Vice President                                           Treasurer