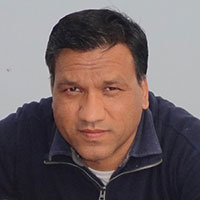 Dinesh Sharma
Executive Director
Dinesh Sharma is the Executive Director of Partners for Progressive Israel. Previously, Dinesh was engaged in the UN-led safe, accessible, and sustainable energy for all campaigns. Serving as the Executive Director of the World Energy Forum, he organized several high-level conferences at the United Nations Headquarters and led the success of World Energy Forum Dubai 2012, which was attended by 22 heads of state. He was also the Managing Editor of Global Energy Affairs, a premier publication, which brought thoughtful insights on energy, environmental, and climate change issues by the world's leading experts.
Dinesh has over 15-year cross-sector professional experience in academic research, journalism, and non-profit management. His weekly analyses (1999-2006) on the Middle East and South Asian strategic affairs for Jane's Intelligence Digest were much acclaimed among the diplomatic and business intelligence communities.  With a post-doctoral research experience on India-Israel relations at the Hebrew University of Jerusalem, Dinesh played an important role in cementing Indo-Israeli strategic ties in the late 1990s. He has lectured all around the world on topics such as NGO Management and Leadership, Sustainable Energy, the United Nations, and World Affairs.
Dinesh was a member of the Executive Committee of United Nations/DPI/NGO (2006-2008). He also served as an Ambassador of Hansa Green Tour for promoting sustainable technologies and green practices.  Dinesh is passionate about the welfare of special kids and has been supporting two schools for special children in the foothills of the Himalayas in India, which he co-founded in 1997.
He holds a doctoral degree in Israeli Studies from Jawaharlal Nehru University (New Delhi) and a master's degree in Non-Profit Management from Columbia University.